After 46 years in the aviation industry, George Alleyne, now 72, says if he had to do it all over again he would do the same thing with no hesitation. And while his memory is a bit fuzzy at present there are some experiences etched there; one of those was witnessing a taxi driver being killed by the propeller of a small aircraft at the then Timehri Airport.
Alleyne has had a career that saw him mixing and rubbing shoulders with some very famous personalities in the world and today even though he is in poor health he proudly displays the photographic evidence.
"It was a very interesting career, to tell you the truth," Alleyne said in a recent interview with the Sunday Stabroek and when asked about some of the highpoints of his career, he quickly responded, "Well they have so many that if I am to tell you all it will take all week.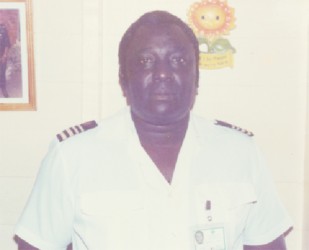 "I will do it all over again. I will do it all over again. I mean it took a lot of time away from my family because many a night I slept at Timehri because of the timing of the flights… and because of that my girls were unable to really grow up with me and I wasn't able to mingle with them. When my eldest daughter died at age 13 I was at Timehri," he said in the wide ranging interview with this newspaper.
Also etched in his memory is the crash landing of the amphibious aircraft, the Grumman Goose, in the Demerara River during an election period when poll observers were returning from Linden.
"I stood up and saw what happened. I was on duty that afternoon, the captain was Captain Wilson and I remembered that thing like if it is happening right now…", he said with a faraway look on his face as he reclined in a chair at his Tucville home.
As he recalls, it appeared that the crew forgot the landing gear was extended. Alleyne said he was standing on the ramp at Timehri watching as the aircraft approached and he commented to a colleague that the aircraft landing gear was extended.
"The next thing you know its [the aircraft] descent was so fast… And we stood up there watching and everybody was at a lost to see this airplane coming down… Next thing you know it hit the Demerara River and made the sound like when you throw a bomb overboard and it suddenly disappeared and then it appeared again with its two wheels up in the air," Alleyne told the Sunday Stabroek adding that it started to bob and weave in the water.
The six persons on the aircraft were all rescued by boats in the area and sustained just bruises and cuts; no one was seriously injured.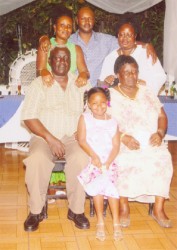 He recollected vividly witnessing a twin otter aircraft killing a taxi driver on the tarmac. He recalled that there was a system where some small aircraft would arrive from the interior at Timehri where they would land once it was not a busy period. The taxi driver would visit the airport for passengers, Alleyne said, but it was not clear how the driver got past the counter in front and walked onto the tarmac. The small aircraft had only moments before landed and passengers were disembarking.
"We saw him coming out and one of the guys said, 'Look dah man walking into the airplane' and with that the guy went straight into the airplane and straight into the propeller… I was standing there and all we heard is 'clax, clax' and when we look again we saw a lump on the ground and the whole side of the airplane was blood. His hands were taken off, his head was severed…"
The taxi driver was known to him and had escaped death before as according to Alleyne one night he was driving him and others to the city when he drove into a canal. Luckily no lives were lost that time.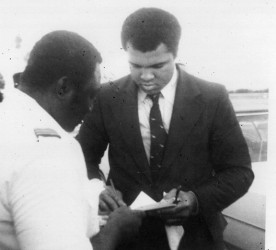 "He [the taxi driver] dropped to sleep and we all went overboard," he recalled.
 Security
He would not say that there was a lapse in security which resulted in the driver reaching the tarmac. Instead, he recalled the taxi drivers were always looking for ways to beat the system and as such there were a lot of problems. He recalled that it was not only taxi drivers they had issues with back then but also security personnel who would arrive for dignitaries and would want to park just anywhere.
The most "disgusting flights" they had were those the late president Forbes Burnham travelled on as his security personnel were an "own-way set of people who would not listen to you and you had no authority to tell them anything. Many times I had to go and complain to Prime Minister Hamilton Green and explain the danger of them parking anywhere…"
But he still enjoyed working during that period and he recalled that he was one of the persons specially picked to ensure that all was well with the aircraft Burnham travelled on.
"Because of Guyana Airways I was able to meet, greet and socialise with a lot of people: sportsmen, heads of state, queen, prince… everybody because I am working all these flights. When the aircraft arrived in Guyana I was one of the first persons the captain would have seen on the tarmac, my job was to really marshal the airplanes and put them on the pads."
He met boxing champion Muhammad Ali, film star Sidney Poitier, Head of State of Nigeria General Yakubu Gowon, Queen Elizabeth and Prime Minister of India Indira Gandhi among others.
Guyana Airways
Alleyne officially retired at age 60, 12 years ago, but he worked for a period after this conducting a ground-handling course with the employees of Captain Gerry Gouvia at Timehri.
He spent most of his years with the Guyana Airways Corporation (GAC), which he joined in 1962 (back then it was British Guyana Airways) as a learner mechanic and he was still at the corporation when it closed its doors in 1999; at that time he was the technical handling unit supervisor. That position meant he and his team were responsible for the preparation of aircraft on arrival and departure.
Following the closure, Guyana Airways 2000 took over and Alleyne said he was asked to join that company in the same position and as he put it he was one of the "lucky guys who was not sent home". Eventually that company also folded and Alleyne said he then joined Universal Airlines and when that also closed he joined Timehri Handling which saw him doing the same work, but the contract was handled by a private person.
Describing himself as a country boy as while he was born in Hopetown, West Coast Berbice he attended school in Mackenzie, Linden, Alleyne said after attending the technical institute he joined the airline which at the time was recruiting young men with technical backgrounds.
He can still recall the morning when he attended the interview at the Guyana Post Office (GPO) building and shortly afterward receiving a letter informing him that he was successful. That was his first "real paying job". He had to be trained in the various sections of the airline but he said the young men who were hired immediately encountered a problem.
"One of the problems we had at the time was the fact that there were some older fellas who were on the job before us… and we had a problem to really fit into the work situation there because these guys were just workers and they had no technical background… That was one of the reasons they were looking for technical people… When we went there it was rumoured that we came to take over their jobs and they would be sent home and the animosity started there," Alleyne recalled.
Because of this Alleyne said they went through a difficult patch as the workers avoided saying much to them and they also avoided showing them anything. If by chance they were sent by the engineers to work along with them they would find themselves in a position holding a spark plug in their hands for hours without being told what to do.
"We had to get over that hurdle and we had several tiffs [with the older workers] … When we were sent to work with them they would say you are working under me and what I say you do and don't trouble anything," he said.
While some of his colleagues left because of the situation Alleyne said he remained and eventually the situation was ironed out and they all got together and started working as a unit.
During the initial stages of GAC, Alleyne said, there was a time when the corporation was responsible for all incoming flights-these included Pan Am, British Airways, BWIA, Air France among others. The staff were responsible for ensuring that the aircraft were properly maintained and were in working condition while in Guyana. They did so with the assistance of overseas-based engineers. The aircraft would remain in Guyana overnight before leaving.
He recalled that there was a mystery surrounding the now infamous Jonestown community as while it was there it was a "closed out area". He recalled observing persons arriving on Pan Am aircraft at the airport and they would be picked up by special pick-ups, "but nobody never really investigated where they were going, you know, you would not get yourself involved. They would leave and go their way and then the next day there would be all these flights to Port Kaituma."
Maybe the only regret Alleyne has, and this has nothing to do with him, is the fact that after working so many years in the industry, when the country celebrated 100 years of aviation in Guyana in grand style he was not included and not even an invitation was extended for his attendance.
Alleyne has been married to Evelyn Alleyne for almost 51 years and they have two surviving daughters and one granddaughter.
Around the Web