A vehicular accident that occurred around 00:10hrs yesterday on the Crabwood Creek Public Road, Corentyne, has left two youths dead and one injured.
Dead are 29-year-old Wayram Narine Ramsamoojie called Ajai and Dutchie of Clifton Settlement Corentyne and 18-year-old David Seelall of Sisters Village, EBB.
Nursing wounds at the New Amsterdam Hospital is 21-year-old Ivor Bennett.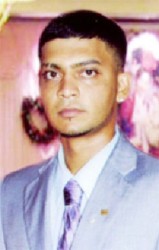 According to reports reaching Stabroek News, Omar Khan (aka Daniel Rambhrose) also of Sisters Village, rented a car (described as a silver grey Toyota Preimo) for a group of friends to go for a 'joy ride'. Khan, along with Seelall, Bennett and Zaman Alli (18 yrs old) left Sisters around 19:00 hrs to go to Edinburgh, another village on the East Bank Berbice to have fun. However, a few hours after they found themselves on the Corentyne, where they stopped at Clifton Settlement to collect Ramsamoojie before making their way to Crabwood Creek, Upper Corentyne.
Recounts of the accident indicate that the young men were returning home from a night out at Crabwood Creek when they attempted to cross the Black Water Bridge to enter Skeldon. However, unfamiliar with the area, the driver lost control of the vehicle which then flipped over slamming into a utility pole before landing upside down in a 20-year-old Christmas tree.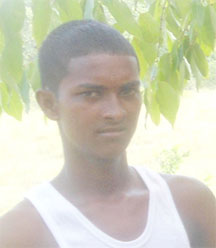 Ramsamoojie's sister, Bhanita visibly distraught over the death of her brother, said he was roused out of his house around 20:00hrs by his cousin Daniel (the driver) to go for a ride. That was the last time the family saw him alive. "They come mekking a set of noise, calling 'Ajai, Ajai'. And when he look out they tell he come let we go for a drive." She said no one questioned the wisdom of him leaving the house at that hour because "dem is all family, and they would normally go out".  Ramsamoojie's family was not alarmed when he didn't return home. "Is only when we get a phone call around 03:00hrs saying he was in a serious accident, then we know something wrong," she sobbed.
By the time the family rushed to the New Amsterdam Hospital where he was taken, Ramsamoojie had already succumbed to his injuries.
Meanwhile, Bissoondai Ibran, the mother of Seelall was inconsolable over the loss of her youngest child. The mother of nine said it was her "worse nightmare come to life": being awakened in the wee hours of the morning and told her son was dead. Crying in earnest at her Lot 122 Back Street, Sisters Village residence, Ibran could not comprehend why her son was taken from her at an early age. "Oh God! Why? He leave home to go Edinburgh. Is what he doing till Crabwood Creek?" she sobbed.
She explained that he had just received his weekly wages, having only begun working at one of GuySuCo's Sugar Estates two weeks prior, and wanted to celebrate. Seelall was pronounced dead on arrival at the Skeldon Hospital.
Bennett, who was rushed to the New Amsterdam Hospital, was in a semi-conscious state when Stabroek News visited him. In extreme pain, all he could muster the strength to say was that he had fallen asleep in the car and awoke in the hospital. He had no recollection of the accident or where they were heading prior to the accident and why.
The fourth occupant of the car, Zaman Alli said he was in the passenger side of the vehicle when they attempted to cross the Black Water Bridge which would take them out of Crabwood Creek and into Line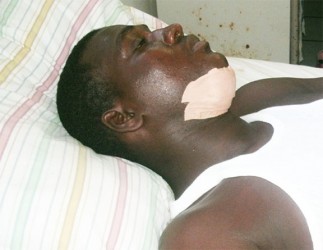 Path, Skeldon and the driver allegedly loss control of the vehicle. "When we cross the bridge, I feel it jock and then it flip and hit the lamp post. When I catch me self, I was outside the car sitting bracing on a fence," he said.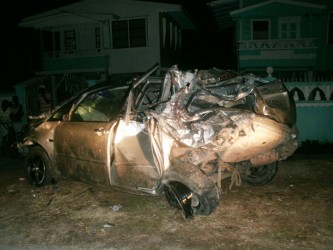 Alli was treated for his minor injuries and sent home.
The driver and fifth occupant of the car, Omar Khan is currently in police custody assisting with the investigations.
Ramsamoojie leaves to mourn his father Balraj, siblings Bhanita and Sanjay, wife Rihanna and one year old daughter Sophia.
Seelall leaves to mourn his mother Bissoondai, father Ramcharitar and eight siblings.
Around the Web