By Dacia Whaul
The family of one of the two men killed in the boat collision in the Demerara River on Sunday believes that alcohol may have contributed to the fatal accident and are questioning the police's failure to do a breathaylser test on the surviving captain.
Captain Dale Duggin, 28, of Parapi, Upper Demerara and Williamson Felix, 37, a Saint Lucian national who resided in Diamond Housing Scheme, on the East Bank of Demeara, were in a boat when another boat collided with theirs near the Muritaro area, sometime between 8:30pm and 9pm in the Demerara River.
According to a cousin of Duggin, the information he received was that Duggin was on his way to his house, which is under construction, a short distance from his mother's residence, where he had been. Duggin and Felix, who was contracted to build Duggin's home, were travelling in a boat heading to Parapi, Upper Demerara River, when the other boat captained by Telford Lim, 33, encountered it from the opposite direction, skidding over the boat that was captained by Duggin. Duggin and his engine were reported to have been thrown out of the boat, while Felix's neck was broken and his face was smashed.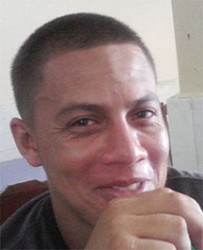 Felix was found sometime after the accident and taken to the Linden Hospital Complex, where he was pronounced dead on arrival.
Duggin's lifeless body was pulled out of the Demerara River at around 11am on Monday morning as a result of a desperate search conducted by divers since family members believed he had plunged overboard when he saw the oncoming boat.
'Under the influence'
Lim, of Malali, Upper Demerara River, and two passengers Michael Edwards of Endeavour, Lower Demerara River, and Travis Gilkes of Malali were rescued. The Maritime Administration Department (MARAD) is currently investigating the collision. Lim has been taken into custody to assist with its investigation.
Low visibility at night is suspected to have been a contributing factor to the accident and an eyewitness yesterday stated that the boats were not visible to each other, hence the unfortunate accident.
However, enraged relatives of Duggin yesterday voiced their disappointment with the police's handling of the case and in particular the failure to administer a breathalyzer test to Lim.
They believe that he was under the influence of alcohol at the time of the accident. "I think the police should step up more," said an aunt yesterday, while fighting back tears.
When asked whether Duggin may have been under the influence, they responded in the negative.
An aunt told Stabroek News that when she asked the police if they did a breathalyzer test on Lim, she was told no and when she enquired the reason for this oversight an officer reportedly told her, "They didn't think about it."
Additionally, the aunt said she was told by the police that "it was a river mishap and not a road accident."
When Stabroek News contacted the Mackenzie Police Station for comment, it was referred to the Police Public Relations Officer Ivelaw Whittaker. However, efforts to contact Whittaker proved futile.
Meanwhile, a close relative of Duggin also expressed concern about the absence of life jackets when traversing the river as well as little or no lights by vessels using the river at nights. "I am calling for these things to be implemented," said a cousin of the dead man.
Duggin will be buried on Sunday at Butuba, Upper Demerara River, while Felix is set to be buried on Tuesday, when his brother and sisters arrive from Saint Lucia.
Around the Web