Ranks of the Customs Anti-Narcotics Unit (CANU) yesterday morning intercepted 12 kilogrammes of cocaine which was stuffed into locally grown boulanger before it could be placed on a flight to Toronto, Canada, at the Cheddi Jagan International Airport, sources close to the case have confirmed.
Stabroek News was told that one arrest had since been made and investigators are looking for others who may be linked to the shipment.
A source said that the bust occurred around 3:16 am as ranks were checking the vegetable shipment, which was scheduled to be placed on a Caribbean Airlines flight.
Based on what this newspaper was told, the drug traffickers cut off the top of the boulangers, scooped out the inside and filled it was parcels of cocaine. The tops were then pasted back on.
This is just one of the many innovate ways that drug traffickers have come up with, to conceal cocaine bound for overseas. They have already tried putting cocaine in lumber, rum, phoulorie, cabbage, molasses, fish, fish glue  and pepper sauce, among other products.
Wanted bulletin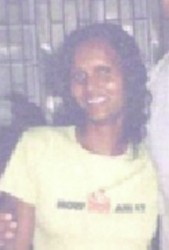 The Customs Anti-Narcotics Unit has issued a wanted bulletin for 'Lolita' in connection with investigations into the cocaine in eggplants found at the Cheddi Jagan International Airport yesterday. Her address was given as 135 Grass Field, Lusignan, East Coast Demerara.
Anyone knowing her whereabouts is asked to contact CANU on telephone number 227-3507
Around the Web