Brian Leitch, also known as 'Big Foot,' was yesterday charged with the murder of hotelier Joseph Jagdeo, whose phone police say he stole and later sold to a woman.
Leitch, a 19-year-old labourer, of Diamond, East Bank Demerara, was not required to plead to the charge when he was arraigned before Chief Magistrate Priya Sewnarine-Beharry at the Georgetown Magistrates' Court.
According to the charge, between November 13 and November 14, 2013, at South Road, he murdered Jagdeo.
Police Prosecutor Bharrat Mangru told the Chief Magistrate's court that on November 13, Leitch was staying at the South Central Hotel, owned by Jagdeo, with a female companion.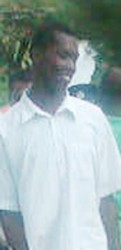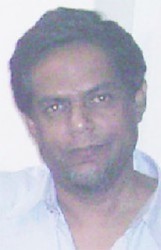 Mangru added that Jagdeo had discovered his cell phone missing and subsequently approached Leitch about the missing phone, causing him to become annoyed.
On November 14, Mangru said, the hotel's caretaker went to clean Jagdeo's room and discovered that it was locked. The caretaker later gained access to the room and discovered Jagdeo's body underneath the bed, bound with pillow cases.
Mangru told the court that while investigating the murder, police officers used a tracking device and recovered Jagdeo's phone in the possession of a female. This female, Mangru said, subsequently told officers that she had purchased the cell phone from Leitch.
On November 30, after a wanted bulletin was issued for Leitch, he turned himself over to the police. He admitted to murdering Jagdeo when the allegation that he was responsible was put to him, Mangru added.
Magistrate Sewnarine-Beharry refused bail and Leitch was remanded to prison until January 7, 2014, when the case is to be called for reports and fixture.
After Jagdeo, 59, was found dead, police had taken several persons who frequented the hotel into custody for questioning.
The discovery of the man's body was made almost a day since he was last seen alive. Hotel staff recalled that since November 13, Jagdeo had not been seen, which was odd because he usually would spend the majority of his day in his office. Employees recalled that the keys to the room were on the bed under which the man's body was found, suggesting that whoever was in the room locked the door then threw the keys over the façade wall.
A post-mortem examination later found that Jagdeo died as a result of asphyxia due to manual strangulation.
Around the Web