Residents of Middleton Street, Campbellville, want something to be urgently done about the deplorable state of the foot bridge located on the western half of the street, which they say is a hazard they are forced to endure.
Residents told Stabroek News that the bridge, which is located between Duncan and Garnett streets and allows pedestrians to cross the trench that separates Middleton Street from Campbell Road, has been in a deplorable state for more than a decade.
One resident said that about 15 years ago, the Western Union Company looked after the bridge and since then the bridge has been neglected.
She added that whenever the rain falls, the bridge is usually flooded and the pieces of wood placed on it by persons in the community in an attempt to keep the bridge in a usable state float away.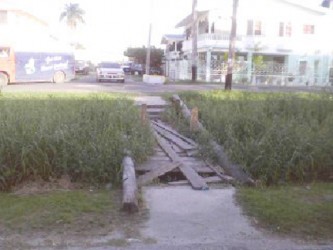 Residents also noted that the trench is completely taken over by weeds and is snake-infested.
Wanita Jones, a resident of the community yesterday said that there was an incident earlier this year when a schoolchild using the bridge fell into the trench because the frail pieces of wood at one section of the structure broke. The child suffered  minor injuries as a result of the fall.
Another said that she once witnessed an elderly woman fall into the trench when a portion of the bridge gave away as she was crossing.
She sprained her ankle as a result of that fall, according to the resident.
Around the Web