At 28 years of age, Mary (not her real name), thought she had finally gotten her life on track when she managed to purchase an excavator on hire purchase to enable her to start up her gold-mining business.
For months she slaved in the kitchen of her mining camp as the cook while her partner acted as the General Manager and his son operated the machine. There were in addition about five other workers. They managed to pay their monthly instalment as the land they worked on at that time was lucrative.
But then the gold ran out and today Mary is almost homeless, the machine has been repossessed stalling her business, she has no money to provide the basics for her only child and in her words she is in "a desperate position."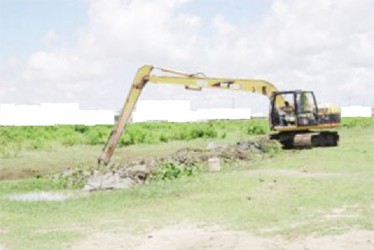 Mary feels that she has been treated unfairly by the company from which she purchased the machine since she had already paid $15M of the $26M owed on it and the only reason she missed some of her payment dates was because she was moving her operation from one area to another. Now they can no longer work because the machine has been seized and the workers have abandoned them.
Mary is one of those women who do any and everything to provide for herself and family and her story includes tales of facing rain and sun in order to earn a living. Her mother is unwell and she also supports her, but at present she is not sure if they would even have a roof over their heads in another few days because they cannot afford to pay their rent.
She walked the streets of Georgetown selling clothes and later did the same thing in Port Kaituma before opening a shop in a mining area.
There were times when she was sick but she continued to work as she did not have the option of taking a few days sick leave.
And Mary is not the only one; at least two other female miners the Sunday Stabroek spoke to told of their excavators being repossessed even as they pleaded with the company to give them some time as gold prices had dropped and they were moving their operations.  One woman said she owes $10.2M more on the $32M for the machine while the other said she has paid $16M so far on the $36M owed on her machine. Both have been seized and they claim that the company is asking them to pay off all that is owed before they are returned.
"But where would we get the money when we are not working?" one of the women said, relating that everything that could have gone wrong had gone wrong as her tractor had now broken down and a relative had crashed her ATV bike.
 'Many like them'
"There are many more like them," President of the Guyana Women Miners Organisation (GWMO) Simona Broomes told the Sunday Stabroek, adding that her organization has received over "ten complaints" against the said company.
"And this thing really hurt me because it is these women who have the dream and this passion to earn in mining and they just putting everything on line…" she said.
She revealed though that there are complaints against other companies as well, but this particular company lures miners by taking smaller down payments than the others.
"That is how he does it, but a lot of the machines are not new so when he gives you this machine the amount of money you have to spend on it… it is sheer robbery," she said.
However, when contacted an official of the company, who did not want to be named, denied the charges made by the women stating that they had owed the company for months and would not come in or call. He said seizing the machines was the last option as not only does the firm "try to see with the miners," but it is also a very expensive exercise and can cost his business millions of dollars. According to the official sometimes they would "see with miners" for a period of up to six months or even a year at times, because they know that mining is a risky investment.
He denied the women's claim that the machines were defective, forcing them to spend millions of dollars in repairs. The man said the fact was that most of the time when they seized machines they had to spend millions repairing them before attempting to get them sold at reduced prices.
However, Broomes said that it is a fact that the machines are defective and she is of the opinion that the company seizes machines, repairs them and then resells them as brand new, and the new customer is none the wiser.
Broomes said that the small miners in Guyana are going through "dog treatment" as she said they cannot get loans from banks and as such these companies take advantage of their vulnerability.
Mining
Mary ventured into land-based mining with her partner in January last year but because they did not have an excavator they were forced to rent one. Since the rental was eating away at their finances they concluded that it was better to get a machine of their own.
The first month after they made the down payment the couple ‒ the woman's partner had done the transaction ‒ they paid $2.6M to the company and she thereafter made regular payments.
According to the woman after one week of operation a part of the machine went bad and replacing it cost $1M. Even though the company said they would replace it, after weeks of waiting they were forced to purchase the part themselves. She said the company promised to deduct the $1M from the overall payment for the machine. Once the $1M is deducted the money left to pay on the machine totals $10M. The woman also said that several times they had problems with the machine and they had to get it repaired, including replacing the fuel pump at a cost of over a million dollars.
Told about this, the company official denied any knowledge of it, saying that he knows the customer well and he is unaware of that claim.
"I sell my car to pay them some money…" the young mother of one said with tears rolling down her cheeks, adding that her many attempts to see the owner of the business had been in vain.
"Sixteen million dollar is nah no lil bit money; I don't even have a house of me own just because I want to get my business going," Mary said.
The company requested that she pay $3M for the machine to be returned and when she indicated she did not have this they said $1.5 as a seizing fee, but she does not even have that sum because since the machine was repossessed they have been unable to work.
"If I am not working how I can pay?" she said, explaining that the land they were working on was exhausted and they were in the process of moving their equipment when the machine was seized.
And while the company claims that the machine is being transported to the city Mary said they have received information that someone else is in possession of it and is are working it in the interior.
"Right now I am not even working; I owe two months' rent, my daughter owe she school for two months…" the woman said, adding that she is even attempting to sell her ATV bike but no one is interested in buying.
Her daughter is slated to write the Grade Six assessment next year and Mary said she could even afford to purchase the necessary books for her. She had approached many banks for a loan but was turned down.
"The seizing man keep calling me telling [me] 'I already gat somebody to pay down $5M on this machine, if you ain't get the money tell me' and he keep calling me, calling me," the woman related.
She now has a piece of land to work but no machine, and she said she has already sold her television and is pleading with the landlord to give her more time to pay the rent.
"But we already pack up just in case she comes and say we have to move…" the woman said, even though she has nowhere to go should she be thrown out of the house.
Contract
Another issue is that the company does not issue contracts setting out the terms of reference, and Broomes said she views this as a clear intention to exploit the customer. Mary also had to pay the company $600,000 to prepare the document for a duty free concession to be granted for the machine in her name, even though she never applied to the Guyana Revenue Authority.  But she indicated that she has never seen the letter or any paper to say that the concession had been granted.
Broomes indicated that the process to get a duty free letter is done with no hassle, but the companies give miners the impression that it is a long drawn-out process. She explained that once you are buying a machine as a miner if you have your dredge or land a letter is written to the Guyana Geology & Mines Commission (GGMC) which would process and confirm the claim and the letter is then sent to the Minister of Natural Resources & the Environment and he signs it. The document then goes to GRA and after a few days once all is correct the duty free letter is issued within days.
According to Broomes there have been cases where some of the hire purchase companies would ask miners for their transports if they own a property and they would take it into the bank and get a loan, and some of the miners would lose their homes as a result.
And the officials from the companies most times have the police as their escort whenever they are going to seize machines.
"If somebody beat you, kick you in the bush police can't reach, but these big sophisticated robbers in these high buildings got the means to get them in there," Broomes said.
Sending out a warning to small miners Broomes cautioned that while they may feel it is the best thing to buy the machines on hire purchase they need to know that some businesses are preying on them.
"The thing about the small miners, we punish so much and the business sector knows this…and exploit us," Broomes said indicating that she had had a similar experience earlier this year.
She is suggesting in what she says is a direct appeal to President Donald Ramator to assist small miners in forming an "equipment pool" where the small miner could rent a machine at an affordable cost. According to Broomes this suggestion was sent to Cabinet for approval when she sat on the Special Land Use Committee under the chairmanship of Minister Robeson Benn.
Around the Web