Chinese Ambassador to Guyana Zhang Limin and Minister of Finance Dr Ashni Singh on Friday signed a technical and economic cooperation agreement for the provision of 30 million Renminbi ($1B).
The minister and the ambassador also exchang-ed documentation regarding the donation of a mobile container scanner for the Guyana Revenue Authority (GRA).
"We hope that the grant will be useful and help contribute to the development of the social and economic [life] of Guyana," said Limin.
"Though the grant is not a big amount, these types of grants embody and represent the long history of friendship between the two countries.
"According to our past experience the Guyanese Government has made use of these grants for the country's economic and social development," he said.  The US$4.93m grant is one of a series that have come from China in recent years without specific projects attached to them.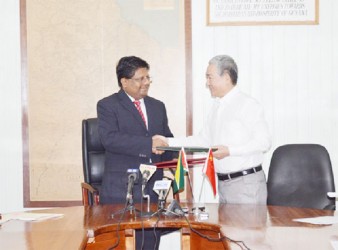 The container scanner is to be soon commissioned and deployed in the fight against smuggling and drug trafficking through the ports of the country.
The ambassador added that the container scanner will help to improve the customs administration.
Responding, Singh said the container scanner is a highly valued addition to the stock of equipment and capital stock of the GRA and will enhance the agency's capacity to discharge its functions as regards international trade.
"I assure you it will have a tremendous positive impact on the work of the GRA," he said.
"We are pleased with the evolution of the manifestations of the relationships. Over the years there have been many examples of projects on which we have collaborated and projects which have been implemented in Guyana with Chinese support," Singh said.
"Guyana has made good use of the resources that have been made available under the various facilities provided by the Chinese Government to the Caribbean," he said. "The results have been truly transformative projects." The minister said too that Chinese companies are increasingly looking to the Caribbean as an investment destination.
Around the Web