Soesdyke resident Raymond Shawn Tyson was yesterday charged with the six-month-old murder of a young lumberyard manager after police say they traced the dead man's smartphone to him.
Tyson, 28, of Lot 46 Kalicharran Road, Soes-dyke, Linden Highway, was not required to plead to the charge that he murdered Thandu Singh, 22, also known as Khemraj Singh, who was found dead with a wound to the neck in a cottage at Land of Canaan earlier this year. He was remanded to prison until March 3, 2014.
According to the charge read by Chief Magistrate Priya Sewnarine-Beharry at Georgetown Magistrates' Court 1, between May 27 and May 28, at Land of Canaan, Tyson murdered Singh, who was also known by the aliases 'Tony' and 'Fine Man.'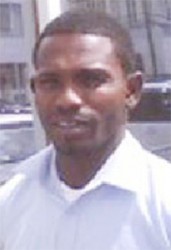 Prosecutor Bharat Mangru, stated that between May 27 and 28 at Land of Canaan, Singh was murdered at his place of employment by a person or persons unknown.
He added that Singh's death stemmed from previous matters.
Mangru said it was also discovered that Singh's BlackBerry smartphone was stolen and its pin was later activated and the user made contact with a male.
He added that it was later discovered that Tyson was in possession of the stolen phone. Mangru added that Tyson's former common-law partner told officers she saw him with the phone and informed them that he later pawned it to her sister, who in turn gave the cell phone to her husband.
Mangru said that the phone was later retrieved and Tyson was arrested.
However, when questioned, Mangru said, Tyson denied killing Singh but refused to say where he got the phone from. As a result, the case file was sent to the Director of Public Prose-cutions (DPP), who instructed that Tyson be charged with murder. Twenty-three persons are scheduled to testify in the case on the behalf on the prosecution.
Attorney Nigel Hughes, however, suggested that Tyson, his client, was being framed as a result of collusion between his former partner and a policeman.
Hughes told the court after ending the relationship with his former partner Tyson remained in the village for two months before travelling to the interior to seek employment. He added that when Tyson returned to George-town some 10 days ago, he was arrested by a police officer.
He added that the policeman was recently seen with Tyson's former partner, whom he suggested framed his client out of bitterness towards him.
Hughes said Tyson's friends were also contacted, threatened and intimidated by police officers so that they would not give evidence in court, including an alibi witness who has fled the village out of fear. Nonetheless, he stated that he wanted the alibi witness interviewed but not by the officer accused of framing Tyson.
Around the Web