QUITO,  (Reuters) – Ecuador will open up part of the Amazon rainforest to oil drilling after rich nations failed to back a conservation plan that would have paid the country not to explore in the area, President Rafael Correa said on Thursday.
Correa launched the initiative in 2007 to protect the Yasuni area of the Amazon basin, which boasts some of the planet's most diverse wildlife, but said he had now scrapped it after it attracted only a small fraction of the sum it aimed to raise.
"I have signed the executive decree for the liquidation of the Yasuni-ITT trust fund and through it, end the initiative," Correa said in a televised address. ITT refers to three untapped oil blocks known collectively as Ishpingo-Tambococha-Tiputini.
Scores of protesters, some with placards gathered in front of the presidential palace shortly after the announcement, angered by the decision, while others opposing them, waved flags in the colour of Correa's political movement.
Ecuador, OPEC's smallest member, had planned to forgo opening the Yasuni basin, its more than 800 million barrels of crude and $7.2 billion in income from beneath the jungle floor as part of the conservation plan.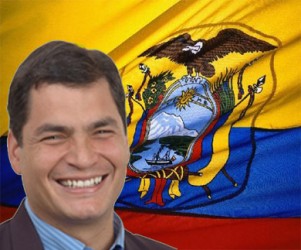 It was aimed at protecting wildlife – a single hectare (2.47 acres) of the Yasuni national park contains more tree species than in all of North America – and the livelihoods of indigenous peoples who fear oil drilling would damage their ancestral homeland.
In return, the government had hoped to receive some $3.6 billion from the international community over 12 years, or about half the value of the oil it would be leaving in the ground, through the fund administered by the United Nations.
In five years, however, only about $336 million had been pledged, mostly from European countries and various environmental groups, the campaign's manager, Ivonne Baki, said in April.
Correa said the plan had only actually received $13.3 million, less than half a percent of its goal.
Last month, Correa set up a commission to evaluate the plan's progress which concluded that "the economic results were not what the state had been hoping for," according to a statement published this week by the vice president's office.
Correa said he had now commissioned technical, economic and legal studies on the basis of which he would seek the backing of the national assembly for drilling in the region, a step required by the country's constitution.
Correa played down the potential impact of oil drilling in the area, saying it would affect only 0.01 percent of the Yasuni basin while his spokesman, Fernando Alvarado, said on Twitter that exploration could be carried out safely in the region.
Around the Web