The body of a man, believed to be the victim of an early morning hit-and-run, was found in a waterway in front of a local Meten-Meer-Zorg Church on the West Coast of Demerara on Sunday afternoon.
The dead man has been identified as Bhagwan Budhram, 43, and the driver of a route 32 minibus was arrested after the body was discovered by pedestrians. However, a day later the driver was released.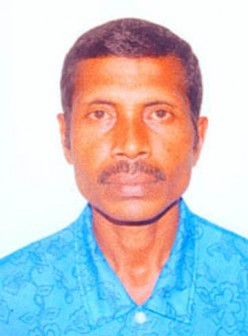 The eyewitness who reported the minibus' licence plate number, BJJ 4469, to the police told Budhram's relatives that around 12am on  Sunday morning, there was a loud noise, which sounded like something had being hit. The eyewitness peeked outside to check and saw the minibus driving away into the darkness.
At that point, there was no suspicion that a man had been hit, since animals are frequently killed in road accidents on the public road. However, the witness hurriedly took down the licence plate number before returning to bed.
After Budhram, who was employed by Demerara Distillers Limited for 20 years, did not return home on Saturday night, his wife Indira frantically called all of her husband's family to find him, but no one knew his whereabouts.
"The next day I told my children that they daddy didn't come home. He never do this. He always return home and if it late he does sleep in the hammock until day clean. Me got worried…I was so worried and I couldn't sleep. I didn't know way he de deh," Indira told Stabroek News. "He didn't deserve that kinda death," she added, breaking down into tears in front of her three children and friends.
"He was a good man. He was good to me…always good. He loved me and he children them. He always put we first… he never for himself but for we. Oh God way you deh! He didn't deserve it. Me niece beg him to stay that night but he want come home… he wan come home," she said.
Budhram's 11-year-old son was playing on the public road that Sunday afternoon when a few of his friends told him that they saw his father lying down in the trench. He went to the scene and found his father lying in the grass dead and people were beginning to surround the place.
The boy said that he rushed home and broke the news to his sister. "I tell she that daddy dead and he deh down deh… and it get blood," he said.
The man's older daughter said that when she ran up the road to see her father, she saw that his arms were broken. "His face de bruise up and he was bleeding from the back of his head. All he foot de bus up." The girl also said that she saw debris and broken lights about her father's body.
Indira said around 4:30pm, a man went to her workplace and spoke to her employer. She said that after the man had left her supervisor took her aside and asked her where her husband was and she told him that she hadn't seen him since the previous day. "He turn and tell me that ma husband dead and leh we must go. I said wha?
And he tell me again and then I get blackout. Me ain't see the body yet…I can't bear to see him," she added.
She said that the driver of the minibus denied that he had been driving around that area and when pressured said that he had indeed hit something but it was an animal. He claimed that it was a cow but later he said that it was a horse.
Budhram's daughters said that the death of their father was shocking and that he deserves justice. They feared that the driver would be released and nothing would come out of the accident because he was a relative of a high ranking police officer. They were questioning the reasons why the man was sent away from police custody after a day when all evidence pointed towards him.
Comments

Michael Bhopaul, 16, doesn't know if he is this year's best performer at    the Caribbean Secondary Examination Certificate (CSEC) Examinations, but with preliminary results showing that he has obtained passes in 25 subjects, he will be hard to top.

Inmates at the Lusignan Prison turned over 33 improvised weapons yesterday morning to prison authorities, who say that they also apologised to the prison staff for the unrest at the facility on Friday night.

Well known Berbice attorney Chandra Sohan was arrested on Friday after he allegedly struck a pedestrian in a hit and run accident along the Williamsburg Public Road.

For a little more than an hour yesterday, the streets outside the Mackenzie Market rang with the voices of dozens of Linden residents who turned out to support a march against homosexuality.
The woman killed during the violent storm in Jawalla, Region Seven on Friday, has been identified as a mother of two, who was seven months pregnant.