A football player died yesterday shortly after he collapsed at practice session at the Melanie Play Field.
Owen Andrews, 37, of Lot 145 North Melanie Dami-shana, East Coast Demerara, succumbed at the Georgetown Public Hospital last evening.
When Stabroek News visited the hospital last night, family members and close friends who gathered were mourned what was described as Andrews' sudden death.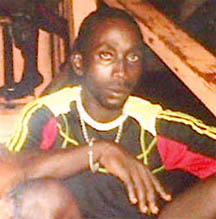 Andrews, who was a carpenter, played for the Beacon Football Club for a number of years, representing the team in a number of local competitions.
His aunt, Denise Harris who was present at the hospital, said he had left home "full of life and in good health" yesterday afternoon.
However, she recounted that she received a call from one of his teammates around 6 pm yesterday and was told that her nephew had collapsed during a practice session at the football field and he was immediately rushed to a doctor.
Harris added that when he was taken to a doctor, the family was told that there was nothing wrong with Andrews. When the family then took him to the Georgetown Hospital, he succumbed. Harris revealed that her nephew was asthmatic but she was unsure if this illness caused his sudden death.
His mother, who is also asthmatic, collapsed at the hospital last evening after learning of her son's death.
One of his sons, who was comforted by relatives, quietly sat with his eyes red with tears after he also learned his father's death. Andrews, who was a father of seven, was described as always caring and concerned about his family.
Comments

Tourism Minister Shamfa Cudjoe announced the decision to close the company. (Trinidad Express) The Tourism Development Company (TDC) has ceased operations.

Cevons clearing city garbage WPA STATEMENT ON THE UNRESOLVED ISSUE OF GARBAGE COLLECTION IN THE GEORGETOWN MUNICIPALITY The WPA is deeply concerned that the Georgetown City Council's inability to honour its financial obligations to Cevons Waste Management and Puran Brothers has the potential of endangering the health and lives of citizens.
British High Commissioner to Guyana Greg  Quinn  yesterday said that it was hoped that more would have been done to push the constitutional reform process forward.

A West Coast Berbice man died after he reportedly set his one-storey house ablaze sometime around 11.20 am yesterday.

A Yarrowkabra miner was yesterday charged with the murder of a co-worker, whom he allegedly beat to death during an alcohol-fuelled clash last Saturday at a dredge site in the Potaro Backdam.