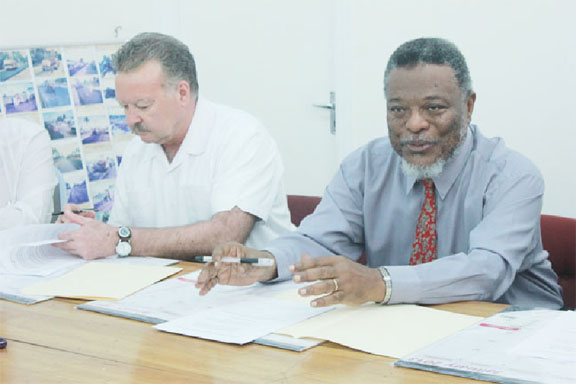 The Government of Guyana and CM Power Company, a subsidiary of Sandspring Resources/ETK Inc, yesterday inked a Memorandum of Understanding (MOU) for a feasibility study for construction of a hydropower plant at the Kumarau Falls on the Kurupung River.
Prime Minister Samuel Hinds said that the MOU gives CM the exclusivity to continue studying the site to develop plans to the point of going into construction.
"CM approached the government years ago to begin studying the development of a hydro plant that offers the potential to provide power at a lower cost," he explained.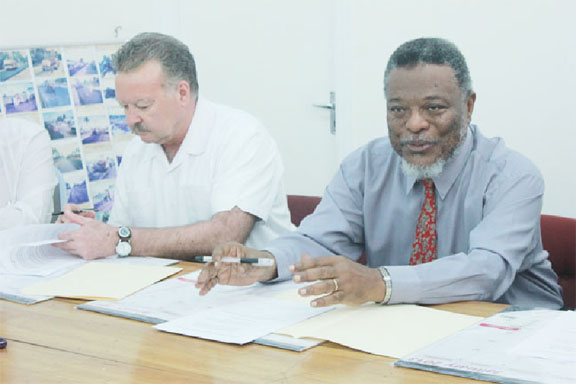 The plant, which will cost an estimated US$300 million and will have a capacity of 65 megawatts, is expected to benefit not only the Bartica community but also smaller communities along the Essequibo River.
It is also projected to run for about 16 years, CEO of Sandspring Resources Rich Munson told this newspaper.
He also said that this is a win-win situation for the Guyanese people, because the development of the plant will see long term power supply to communities that is not dependent on fossil fuels. "Having [a] power supply avoids them being subject to oil market in a number of years and will also allow them to expand and enhance operations which will benefit all Guyanese," he added.
Minister of Natural Resources Robert Persaud endorsed the comments made by the Prime Minister and added that this particular project is important for Guyana.
"This project is one of the key leading projects in terms of transforming the mining sector. It will not only be a cleaner form of energy, but it will also have multiple benefits," he said.
Comments

Several candidates recorded outstanding performances at this year's Caribbean Advanced Proficiency Examination (CAPE).

 Geometric improvements will be carried out on the East Coast Railway Embankment Road come September for smoother traffic flow.
Swift action by the Law Enforcement and Investigation Division (LEID) of the Guyana Revenue Authority (GRA) aided in the removal of a large quantity of seized foreign chicken from two separate cold storage facilities in the Berbice area after it was discovered that the commodities were unlawfully being disposed of, the GRA said today.

Farha Faiz, a lawyer, speaks with the media after a verdict for the controversial Muslim quick divorce law outside the Supreme Court in New Delhi, India August 22, 2017.  

Defeat Tallawahs by 37 runs Chris Gayle, playing in his 50th CPL match, produced his 63rd T20 fifty as St Kitts & Nevis Patriots cruised past Jamaica Tallawahs by 37 runs to guarantee a place in the playoffs for the first time in their three-year history.