A carpenter was electrocuted when he came into contact with a live electrical wire as he was working on a building at High and Leopold streets yesterday.
Dead is Faizal Ali, 35 years-old, of Bella Dam, Pouderoyen, West Bank Demerara. He died at the Georgetown Hospital while receiving medical treatment.  Ali fell off the building he was working on after he was shocked by the wire.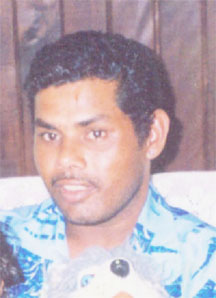 The police said in a release that Ali was working on the building when a metal tool that he was holding made contact with the live wire.
His brother, Roshan Ali, told this newspaper that he received a call around 1:30 pm from someone informing him that his brother had been in an accident and had been taken to the hospital. His brother said that shortly after this, he received another call informing him that his brother had died.
He said that the family subsequently learned that his brother was about to put up a scaffold on the second floor of the building when tragedy struck. Ali also said, when asked, that the wire which came into contact with his brother was not an illegal wire. He added that his brother has been working at the building, which is under construction, for about two years and that he had been a carpenter for the past eight years.
He was also the father of three and was the second-to-last child of his six siblings. A post-mortem result to determine his cause of death will be done on Friday. A wake was held at his parents' residence last evening.
Comments

Mashramani celebrations ground to halt for several families yesterday afternoon, when approximately 30 persons lost their homes after a fire of unknown origin ripped through three Victoria Road, Plaisance properties, including an apartment building.

Minister of State Joseph Harmon says that the US$3 million settlement offer made by Hong Kong Golden Telecom Limited (HKGT) on the outstanding balance for its purchase of government shares in the Guyana Telephone and Telegraph Company (GTT) is being actively considered, but the government's goal is to recover the entire US$5 million that is owed.

Opposition Leader Bharrat Jagdeo on Thursday criticised government and Minister of Finance Winston Jordan on the heels of the announced plan to borrow cash from local banks to reopen two sugar estates and to fund critical current and capital Guyana Sugar Corporation (GuySuCo) programmes.
The private sector is upbeat about the nearly three dozen-odd opportunities recently advertised in the oil and gas sector as it goes some way towards meeting local content needs, according to Private Sector Commission (PSC) Chairman Eddie Boyer.

'Black Panther,' the new Marvel Studios cinematic juggernaut opened in Guyanese theatres to overwhelming support on Thursday evening, which saw a large number of patrons turning out in African cultural display to mark the occasion.