Orin Rodrigues, who is accused of fatally stabbing his step-sister and her son, was yesterday arraigned on two murder charges.
In addition to being charged with the murders of Molly James and her son Aaron, 15, Rodrigues, 20, was also charged with raping a 13-year-old girl when he was formally charged at the Georgetown Magistrates' Court.
Rodrigues was not required to plead to the charges and was remanded to prison.
It is the police's case that on November 29, at 2pm in Moblissa, Linden Soesdyke/Highway, Rodrigues raped the 13-year-old while she was at a creek washing clothes.
As a result of the attack, Molly James made a report to the police. Police say that after learning that a report was made against him, an enraged Rodrigues went to James' home at 12:30am on November 30 armed with a knife. James and her family were asleep when Rodrigues entered the home and dealt her several stabs about her body. During the attack, Aaron James went to his mother's aid only to be attacked as well. Rodrigues then made good his escape.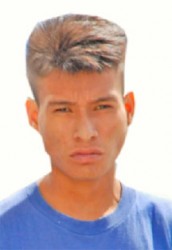 Police prosecutrix Vernette Pindar told the court that Rodrigues was apprehended by the police on December 1, after they acted on a tip they had received that he was in the area.
After the arrest, the court was told, Rodrigues gave a cautioned, oral confession to the police.
Chief Magistrate Priya Sewnarine-Beharry,       subsequently remanded Rodrigues to prison and transferred the case to the Christianburg Magistrate's Court, where it will be called again on January 8, 2014.
Comments

Prime Minister Moses Nagamootoo yesterday called on the Opposition to put to an end their dilatory tactic because it violates the standing order of the National Assembly.                    

(Trinidad Guardian) Stop embarrassing the Chinese government and people! That was Prime Minister Dr Keith Rowley's rebuke to the Opposition in Parliament yesterday, after being pressed on the change of plans for his China trip.

Despite the AFC's claim that it was not involved in the selection of a Guyana Elections Commission (Gecom) Chairman, its two senior leaders, Khemraj Ramjattan and Raphael Trotman, had advised President David Granger that he could utilise the constitutional proviso and make a unilateral appointment.

The National Assembly last evening approved over $8 billion in total budgetary allocations for 16 constitutional agencies even as the government's failure to properly account for cuts to requested expenditure drew criticism.

Opposition MPs were yesterday reprimanded by Speaker Dr Barton Scotland for their raucous behaviour on November 2nd, when they staged a protest that drowned out most of President David Granger's address to the National Assembly.