Orin Rodrigues, who is accused of fatally stabbing his step-sister and her son, was yesterday arraigned on two murder charges.
In addition to being charged with the murders of Molly James and her son Aaron, 15, Rodrigues, 20, was also charged with raping a 13-year-old girl when he was formally charged at the Georgetown Magistrates' Court.
Rodrigues was not required to plead to the charges and was remanded to prison.
It is the police's case that on November 29, at 2pm in Moblissa, Linden Soesdyke/Highway, Rodrigues raped the 13-year-old while she was at a creek washing clothes.
As a result of the attack, Molly James made a report to the police. Police say that after learning that a report was made against him, an enraged Rodrigues went to James' home at 12:30am on November 30 armed with a knife. James and her family were asleep when Rodrigues entered the home and dealt her several stabs about her body. During the attack, Aaron James went to his mother's aid only to be attacked as well. Rodrigues then made good his escape.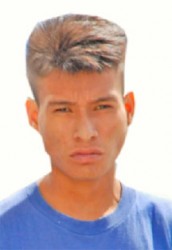 Police prosecutrix Vernette Pindar told the court that Rodrigues was apprehended by the police on December 1, after they acted on a tip they had received that he was in the area.
After the arrest, the court was told, Rodrigues gave a cautioned, oral confession to the police.
Chief Magistrate Priya Sewnarine-Beharry,       subsequently remanded Rodrigues to prison and transferred the case to the Christianburg Magistrate's Court, where it will be called again on January 8, 2014.
Comments

WASHINGTON, (Reuters) – The world's most powerful government shut down today after President Donald Trump and the U.S.

-number of redundant workers at 4,763 The National Assembly yesterday approved nearly $2 billion to facilitate full severance by the end of January for a little more than 1,600 of the 4,763 sugar workers that have been made redundant.

Following criticism over government's handling of the restructuring of the Guyana Sugar Corporation (GuySuCo), President David Granger and members of his Cabinet yesterday met with the leadership of the Guyana Agricultural and General Workers' Union (GAWU) and the National Association of Agricultural, Commercial and Industrial Employees (NAACIE) to discuss the future of the sugar industry.
An 18-year-old woman succumbed on Thursday evening, one day after she was allegedly beaten by her common-law husband during an argument at Baramita, in Region One (Barima-Waini).
In his absence, Ganesh Chaitram, who was charged with raping a 10-year-old girl in 2016, was yesterday sentenced to life in prison after a jury found him guilty of the crime.