LOS ANGELES, (Reuters) – A record $1 million reward was posted yesterday for information leading to the capture of a fugitive former Los Angeles cop suspected of targeting police officers and their families in three killings committed in retaliation for his 2008 firing.
Los Angeles Police Depart-ment Chief Charlie Beck said the reward, raised from private donations, police unions, businesses and city and county governments, marks the largest sum ever offered in Southern Califor-nia in a criminal investigation.
The reward was posted as law enforcement agencies across the region pressed on for a fourth day in their search for the suspect, ex-LAPD officer and U.S. Navy reservist Christopher Dorner, 33. Beck described it as the most extensive manhunt ever mounted in the Los Angeles area.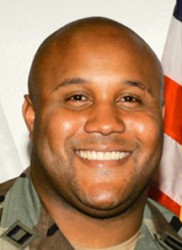 He called the spate of revenge-driven violence Dorner is accused of committing "an act of domestic terrorism," adding, "This is a man who has targeted those who we entrust to protect the public. His actions cannot go unanswered."
Speaking at a news conference, Beck said investigators were making progress but he declined to elaborate, saying they presumed that, if Dorner is still alive, he would be following media coverage of the manhunt closely.
Los Angeles Mayor Antonio Villaraigosa added, "Our dedication to catching this killer remains steadfast, our confidence in bringing him to justice remains unshaken."
An LAPD spokesman also said police would be providing extra security for the recording industry's Grammy Awards ceremony on Sunday at the Staples Center in downtown Los Angles.
The search for Dorner has been focused in the snow-covered San Bernardino Mountains northeast of Los Angeles since a pickup truck belonging to Dorner was found abandoned and burning near the popular ski resort community of Big Bear Lake on Thursday.
The truck turned up hours after a couple of alleged encounters with the suspect in the adjacent towns of Corona and Riverside east of Los Angeles. There police said Dorner first exchanged gunfire with two officers, grazing one in the head. He later ambushed two more policemen in their patrol car at a stoplight, killing one and badly wounding the other.
'UNCONVENTIONAL WARFARE'
A rambling, multi-page manifesto posted on Dorner's Facebook page last week claimed he was wrongly terminated from the LAPD in September 2008 and threatened to unleash "unconventional and asymmetrical warfare" on police officers and their families in revenge.
A former Navy lieutenant, Dorner also is suspected in last weekend's slayings of a campus security officer and his fiance, the daughter of a retired Los Angeles police captain singled out for blame in the manifesto for Dorner's dismissal. The couple, Keith Lawrence, 27, and Monica Quan, 28, were found shot dead last Sunday in their car on the top level of a parking structure in the city of Irvine, south of Los Angeles. Dorner had ended his military service two days earlier, but the Navy has not disclosed the circumstances of his discharge.
Comments
BOSTON (Reuters) – Tens of thousands of people took to the streets of Boston yesterday to protest a "free speech" rally featuring far-right speakers a week after a woman was killed at a Virginia white-supremacist demonstration.
WASHINGTON, (Reuters) – US President Donald Trump and first lady Melania Trump will not attend the Kennedy Center Honors in December, the White House announced yesterday, after several honorees said they would boycott a White House reception before the show.
RIPOLL/BARCELONA, Spain (Reuters) – Police were searching yesterday for the driver of a van that killed 13 people when it ploughed into a crowd in Barcelona and were trying to determine whether two other suspected Islamist militants linked to the attack had died or were at large.
ABUJA (Reuters) – Nigerian President Muhammadu Buhari returned home yesterday from three months of medical leave in Britain where he received treatment for an unspecified ailment.

WASHINGTON/HAGERSTOWN, Md., (Reuters) – President Donald Trump yesterday fired his chief strategist Steve Bannon in the latest White House shake-up, removing a far-right architect of his 2016 election victory and a driving force behind his nationalist and anti-globalization agenda.