SAO PAULO/BRASILIA (Reuters) – Brazilian President Dilma Rousseff sought to overcome a sudden wave of national discontent with a surprising call yesterday for a referendum on what would be the country's most ambitious political reform in decades.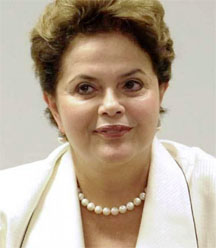 Rouseff proposed a national vote on amending Brazil's constitution in a meeting with governors and mayors the week after the country's largest protests in 20 years jolted politicians of all stripes. It immediately raised questions about whether she could deliver on such an undertaking as she heads to what may be a more difficult re-election in 2014.
Brazil's last sweeping political reform was 25 years ago, when the current Brazilian constitution was ratified in 1988 by the country's last constitutional assembly, three years after the end of its military dictatorship.
"The streets are telling us that the country wants quality public services, more effective measures to combat corruption … and responsive political representation," Rousseff said, reiterating her support for the democratic spirit of most protesters gathering in Brazil's biggest cities in recent weeks.
It was unclear how Rousseff sought to address political reform, and analysts said her proposal may only add to concerns about whether she can placate protesters whose demands vary but ultimately come down to disillusionment with government.
A constitutional reform could take years as the government must arrange a public vote calling an assembly to debate the overhaul of Brazil's representative democracy.
"The creation of a Constituent Assembly to deliver a deep cutting political reform could add another element of medium-term uncertainty," wrote Alberto Ramos, chief Latin American economist at Goldman Sachs, in a note to clients.
"These transformational events tend to take a long time and the final outcome is extremely hard to predict," he added.
The president also laid out proposals to expand public transport, improve health services and crackdown on corruption – concerns raised by the leaderless protest movement that has shaken markets and threatened her popularity.
Around the Web