MILAN (Reuters) – Silvio Berlusconi was handed a seven-year jail sentence yesterday for abuse of office and paying for sex with a minor, adding to the complications facing Italy's fragile left-right government.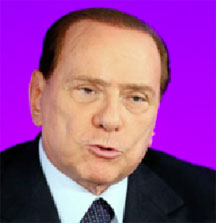 The former prime minister will not have to serve any jail time before he has exhausted an appeals process that could take years, but the conviction angered members of his centre-right party who questioned whether he should continue to support the coalition. The 76-year-old media tycoon expressed outrage at the verdict which he said was politically motivated.
"An incredible sentence has been issued of a violence never seen or heard of before, to try to eliminate me from the political life of this country," Berlusconi said in a statement.
"Yet again I intend to resist against this persecution because I am absolutely innocent and I don't want in any way to abandon my battle to make a country that is truly free and just."
Berlusconi's lawyers announced they would appeal against the ruling that also banned him from holding public office.
Berlusconi was found guilty of paying for sex with former teenage nightclub dancer Karima El Mahroug, better known under her stage name "Ruby the Heartstealer", during "bunga bunga" sex parties at his palatial home near Milan.
The panel of three women judges also convicted him of abuse of office by arranging to have El Mahroug released from police custody when she was held in a separate theft case.
The verdict closes a two-year trial that has mesmerized Italy with its accounts of wild sex parties at the billionaire's villa outside Milan while he was premier in 2010. Several members of Berlusconi's People of Freedom (PDL) party have urged him to withdraw his backing for the government of centre-left Prime Minister Enrico Letta, which needs the PDL's support. "It's disgusting, a disgrace," one of his most faithful lieutenants, senior party official Daniela Santanche, told reporters in front of the Milan court. She said the ruling would not impact the functioning of the government, but other Berlusconi allies were less conciliatory.
Around the Web