WASHINGTON,  (Reuters) – The exiled leader of China's Uighur ethnic minority community called yesterday for an international investigation into an incident in which a car ploughed into pedestrians in Beijing, after Chinese authorities arrested five suspected Uighurs over the attack.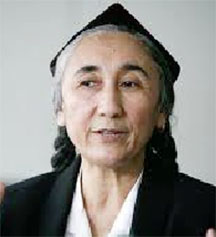 The SUV vehicle burst into flames after being driven into a crowd on Tiananmen Square on Monday. The three occupants and two bystanders were killed, while dozens were injured. Police said it was a terrorist attack.
Rebiya Kadeer, president of the Munich-based World Uighur Congress, called the attack tragic but was equivocal on whether Uighurs – a Muslim people from China's far western region of Xinjiang – had carried it out.
Kadeer, who lives in the Washington area, warned against accepting at face value China's account of the incident.
"Chinese claims simply cannot be accepted as facts without an independent and international investigation of what took place in Beijing on Monday," Kadeer said.
China, which almost certainly will ignore Kadeer's call for an international investigation, said it caught five suspected Islamist militants – all of whom have names that suggest they are Uighur. Chinese authorities have also moved to tighten security in Xinjiang.
Asked whether she believed Uighurs were responsible, Kadeer said: "Maybe and maybe not. It is difficult to tell at the moment, given the strict control of information by the Chinese government on this tragic incident."
"If the Uighurs did it, I believe they did it out of desperation because there is no channel for the Uighur people to seek redress for any kind of injustice they had suffered under Chinese rule," she added.
Her comments were made in written replies to Reuters questions, translated from the Uighur language by an aide.
Kadeer is a former Chinese political prisoner accused of leaking state secrets in 1999 who left China on medical parole and settled near Washington with her husband and part of her family in 2005. The 66-year-old mother of 11 previously had been a celebrated millionaire who had advised China's parliament.
Around the Web