Nineteen year-old junior national player Dominic Vincente has been given, in his opinion, the opportunity of a lifetime to attend the Impact Basketball Academy in Florida, USA for the next four months.
Vincente, a two-time junior national basketball captain and poster boy of the Youth Basketball Guyana (YBG) is hours away from attending the prestigious basketball academy that has had a hand in shaping the games of several NBA All Stars.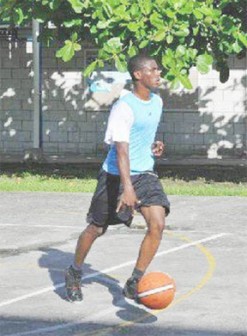 Alumni from Impact Basketball Academy include Kevin Garnett (Celtics) and Tayshaun Prince (Pistons), who are both NBA champions as well as Baron Davis (Knicks), Mo Williams (Jazz), Chauncey Billups (Clippers), Rashard Lewis (Heat) and Sebastian Telfair (Suns).
The fifth form Marian Academy student, who leaves today, said that he sees this camp as a chance to elevate his game and he vows to make the most of it. Vincente said he also intends to share his knowledge that he would have learnt from the camp with other Guyanese players upon  returning.
"I think this camp will help me iron out some of the weak aspects of my game and to bring it up to that level of competitiveness and also to share my knowledge about the training that I would be undergoing," Vincente said.
According to their website, Impact Basketball offers comprehensive training enhancement programmes that have been personalised to help each athlete. Additionally the programme gives players competitive experiences, playing against junior colleges and high level teams, and coaches and college scouts regularly attends workouts and games.
Impact Basketball also has an academic component, offering athletes courses to prepare players to write SAT or for colleges.
Vincente and junior national teammate Nikkoloi Smith attended the Regional Sports Academy's Basketball Camp in Suriname last August which was facilitated YBG president Chris Bowman. Vincente was the only Guyanese to be selected along with four others to attend the Impact Basketball Academy in Florida.
"I went and played my heart out and showed them what I'm capable of and eventually the coaches liked what they were seeing, so I just continued to play my game and at the end of the camp I got an award for most steals on the training camp," Vincente said.
"I felt blessed to have been chosen for this opportunity to go to Florida and when I heard the news that I was one of the persons that was chosen to go to Florida, it was quite shocking but I was excited at the same time," Vincente added.
Vincente hopes to impress college coaches and scouts and possible be recruited by a college where he will be a step closer to his dream of playing in the NBA.
"I plan to use this opportunity to show coaches that with the proper training I can be the best and hopeful be chosen by a college in the US and also I can come back to represent my country at the senior national level," Vincente added.
Vincente started playing basketball as a student of St John's College during the inaugural season of the Guyana Secondary School Basketball Association (GSSBA). Vincente later transferred to the Guyana Education Trust College where he was a one man army scoring most of the team's points and still managing to secure a few tournament wins though he was the only player on his team with basic basketball skills.
Vincente was later awarded a scholarship to attend the school of Georgetown conference champion team Marian Academy.  During that time, Vincente also played at both the division one and division three level for  Georgetown's top club Ravens and was also mentored by former national basketball captain Lugard Mohan who coached him at the YBG's programme as well as at the Junior National level. Vincente had earned the nickname the 'Logo Kid' after his silhouette was used for the logo of YBG.
Around the Web