Fruta Conquerors Football Club's administration and management on Friday held an appreciation dinner for members of their senior team at the Salt and Pepper Restaurant on Robb Street, Lacytown to honour their commitment to the continued success of the club.
Opening the formal proceedings was treasurer Daniel Thomas who spoke of  the club's intention to build on the structures implemented by the management and executives. "The year has been fruitful to us both on and off the field. The conclusion was certainly not what we would have envisioned but we will be focused on building on our current progress and going from strength to strength in the new competitive season. The programmes and structures that have been implemented will continue to breed success and we need further commitment from the players in the pursuit of continued success," he declared.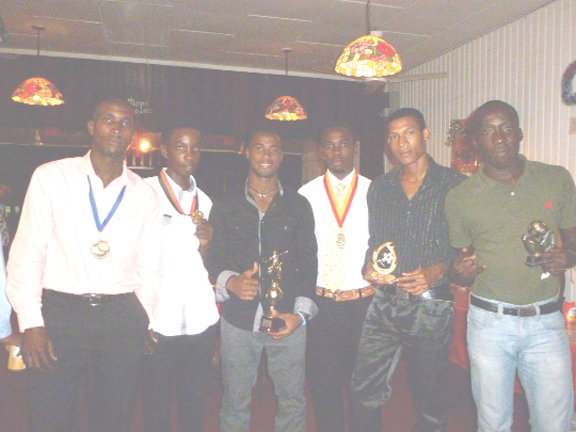 Wayne Forde, president of the club, spoke of the club's need for continued commitment in the pursuit of championship aspirations.
"The players are the heart and soul of the club. Administratively, we have so much more to accomplish but all the sacrifices made by the management are easily repaid when the club succeeds. The year 2012 is behind us and we need to aspire to achieve bigger and better things in 2013. We are a championship calibre organisation possessing the pedigree that is second to none. When we succeed people are not surprised; it's when we don't that they are puzzled. There are no short cuts to success; what is needed is an honest effort from everyone only then can we achieve our long term aspirations," said Forde.
Guest speaker and FIFA licensed agent Faizal Khan shared his sentiments on what it takes to become a professional footballer on the European stage.
"The differences between good players and great players are the sacrifices that are made in pursuit of their goals. Your club has always invested in the youth, whom are the future of the sport. Strength on the ball, sociability, psychological fortitude, technical aptitude and a professional approach are the traits all football players need to possess to become professionals on the European frontier. All that is left is for you to believe in yourself and work towards getting to where you want to be," said Khan.
Concluding the formal proceedings for the evening was club and national striker Vurlon Mills, winner of the most disciplined and dedicated player award for 2012.  He said  that he was grateful to the club for his development and that with a little more effort, that elusive silverware can become attainable.
"My progression as a player was only possible because of my development at Fruta Conquerors FC. I am eternally thankful to the club for what I have become and thank the players, administration and coaching staff for their continued commitment in taking the club to greater heights. The ultimate measure of a man is not where he stands in comfort and convenience but where he stands in challenge and controversy. I will always be a Fruta Conquerors player and supporter," Mills declared.
Other accolades awarded during the presentation for the competitive year of 2012 include: Best Aspiring Youth Player- Kareem Knights, Best Aspiring Senior Player – Adrian Adonis, Medal of Continued Service- Delon Williams, Medal of Commitment- Trevon Lythcott and Most Improved Player- Joshua Browne.
Comments

LONDON, CMC – West Indies will go head-to-head with nemesis Ireland in their quest reach the International Cricket Council (ICC) 2019 Cricket World Cup, after being installed in Group A of the World Cup qualifiers in Zimbabwe starting in March.

BRIDGETOWN, Barbados, CMC – West Indies captain Jason Holder says planning has already begun for the International Cricket Council (ICC) World Cup qualifiers in March as the Caribbean side looks to book its spot in the 2019 one-day showpiece in England.

National lightweight champion, Dexter 'Cobra' Gonsalves will look to shake off some rust when he returns to the ring Saturday night at the Cliff Anderson Sports Hall on the 'Bad Blood' card.

With his historic 2017 campaign officially in the rear view mirror, star athlete Daniel Williams and his coach, Johnny Gravesande have their sights set on an even better 2018 season.

A High Court judge has granted an interim injunction restraining the TT Table Tennis Association (TTTTA) from taking any further action pursuant to its decision to select players Aaron Wilson and Yuvraaj Dookram for the Commonwealth Games.