Cecil Kennard was on Sunday elected president of the Guyana Horse racing Authority when that body held its annual general meeting at the Kennard's Memorial Turf Club pavilion.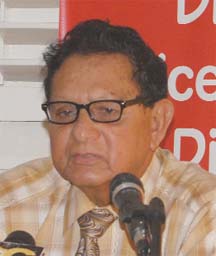 Fazal Habibulla and Roopnarine Matadial were elected vice presidents with Zenzie Goring the secretary.
Compton Sancho will serve as assistant secretary and Francis Chichester as treasurer.
The committee members are Dennis De Roop, Lakeram Sookdeo, Krishna Jagdeo and Lenny Singh with De Roop and Mohammad Shariff representing the owners and Ivan Dipnarine the jockey's.
Sunday's meeting was attended by all seven race tracks along with horse owners, trainers and other stakeholders.
Around the Web