Guyana's Christopher Barnwell played the innings of his life as Guyana overhauled a challenging score of 183-6 to defeat Jamaica by six wickets in the West Indies Cricket Board's Regional T20 semi-final at Gros Islet, St Lucia last night.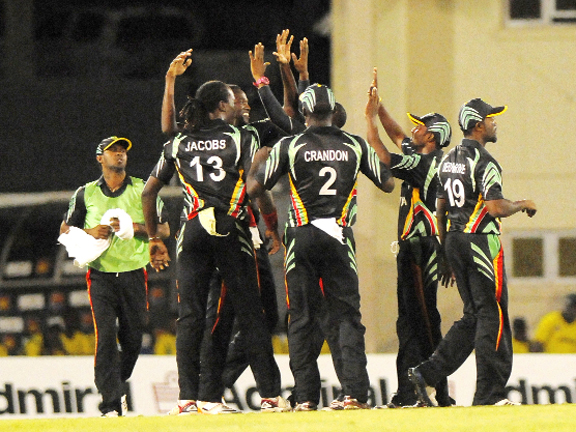 Barnwell smashed 88 from a mere 49 balls a knock that included seven fours and one six as Guyana reached 187-4 to win with eight balls to spare.
He received support from Trevon Griffith whose 41 came from 36 balls with two sixes and one four.
Griffith and Barnwell added 79 runs for the third wicket after coming together with the dismissal of Ramnaresh Sarwan's wicket bowled for 19 at 34-2.
But Griffith fell nine runs short of a half century and Barnwell fell with just 10 runs needed leaving Narsingh Deonarine and Leon Johnson to complete the job which they did admirably both batsmen ending unbeaten on 12.
Barnwell and Deonarine had added 61 runs for the fourth wicket.
The win will see Guyana take on Trinidad and Tobago in today's final.
Earlier, Chris Gayle slammed the first century of the competition in only his second match of the tournament.
Gayle's unbeaten 122, a knock which contained 12 sixes and five fours came off only 61 balls and spurred the Jamaicans to 183-6 off their allotted 20 overs.
The Jamaicans were in a spot of bother after they lost their third wicket, that of Danza Hyatt for seven in the ninth over with the score on 33 but thereafter the Chris Gayle Show took centre stage.
Gayle and Tamar Lambert added 96 runs for the fourth wicket before Lambert was caught by Christopher Barnwell off the bowling of Ronsford Beaton for 23 from 17 balls with two fours and one six while all rounder Andre Russell was the only other batsman to reach double figures making 10 before being prised out by Royston Crandon.
Extras contributed some 15 runs to the Jamaican's total.
Beaton was the pick of the Guyana bowlers with 2-25 from four overs while there was a wicket each for Steven Jacobs, 1-14, Barnwell 1-19,  Devendra Bishoo 1-41 and Crandon 1-49.
Barnwell was fittingly named man of the Match.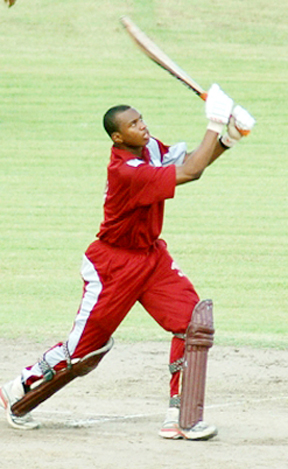 Scoreboard
Jamaica innings
D Bernard c Griffith b Jacobs                                0
C Gayle not out                                                      122
N Bonner b Barnwell                                              0
D Hyatt c Beaton b Bishoo                                   7
T Lambert c Barnwell b Beaton                      23
A Russell c Sarwan b Crandon                       10
Y Elliott c Permaul b Beaton                            6
A Thomas not out                                                0
Extras:-(b3, lb4, w8)                                         15
Total for six wickets; 20 overs                   183
Fall of wickets:-10,15, 33, 129,146, 176
Did not bat:N Miller, K Santokie, S Cotterrell
Bowling:- Jacobs 4-2-14-1, Barnwell 4-0-19-1, Beaton 4-0-25-2, Bishoo 3-0-41-1, Crandon 4-0-49-1 and Permaul 1-0-28-0.
Guyana innings
D Christian c Russell b Santokie                  4
T Griffith c Russell b Elliott                          41
R Sarwan b Cotterrell                                     19
C Barnwell run out (Cotterrell)                  88
N Deonarine not out                                       12
L Johnson not out                                            12
Extras:- (w7,nb4)                                             11
Total for four wickets                                   187
Fall of wickets:- 4, 34, 113, 174
Did not bat:- R Crandon, S Jacobs, V Permaul, D Bishoo and R Beaton
Bowling:-Santokie 3-0-33-1, Cotterrell 4-0-42-1, Miller 2-0-20-0, Russell2.4-0-17-0, Bernard 2-0-28-0, Elliott 3-0-24-1, Gayle 2-0-23-0.
Around the Web