LEICESTER, England, CMC – Leicestershire are unnerved by Ramnaresh Sarwan's selection to West Indies for the upcoming tour of Australia, and plans to speak to the right-hander about his availability during the upcoming English county season.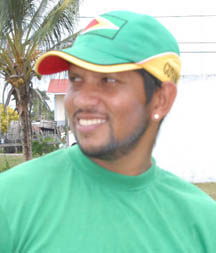 Sarwan was so influential on and off the pitch during his debut season last year that the club signed him up for another two years and only last month named as captain to replace veteran Matthew Hoggard.
However, with Sarwan ending his near 19-month exile from West Indies with a call up to next month's limited overs series, Leicestershire say they will now seek clarity on the Guyanese's future.
"We will be making contact with Ramnaresh to see where this might lead to. At this moment, the question of how it might affect us during the season is a bit unanswerable," said Leicestershire head coach Phil Whitticase.
"We are really pleased for him because we know that he has been striving to play for the West Indies again.
"He still has that passion and drive and we want all our players to play at the highest level. From our point of view, it does leave us a bit vulnerable and looking to come up with a Plan B."
Leicestershire will explore their options of a replacement in coming days, in the event Sarwan becomes unavailable for portions of the season.
Their worry is that West Indies will have a packed schedule this year. Zimbabwe arrive in the Caribbean for two Tests, three One-Day Internationals and two Twenty20s, and will be followed by the ICC Champions Trophy in England from June 6-23.
The Windies will then host a Tri-Nation Series involving India in Sri Lanka scheduled for June 28 to July 11, before Pakistan arrive for a Test and one-day series.
If Sarwan, are involved in these series, he miss large chunks of the county season.
Comments
Colts secured wins over Kobras and Plaisance Guardians in the Open and U-23 Divisions, respectively, when the Georgetown Amateur Basketball Association (GABA) League Championship continued on Sunday, at the Burnham Court, at Carmichael and Middle streets.

LONDON, (Reuters) – The gradual decline of West Indian cricket is hardly a new phenomenon but the latest capitulation of a once-dominant test match power has brought genuine expressions of sadness throughout the sport.

LONDON, CMC – The fallout from West Indies' humbling innings defeat to England in the opening Test weekend has continued with several of the Caribbean players slumping in the latest International Cricket Council rankings.
Upper Demerara Football Association (UDFA) and Essequibo/Pomeroon Football Association secured easy wins when the UDFA GT Beer Inter-Association Championship continued on Sunday, at the Mackenzie Sports Club ground, Linden, UDFA downed East Coast Football Association 3-1.

(Reuters) – England's Stuart Broad wants to play in the home Ashes series against Australia in 2019, the paceman has said after passing Ian Botham to take second place on the country's all-time list of test wicket-takers.