CT20 great learning experience – Beaton
The Caribbean 20/20 championship in which Guyana placed second was a great experience, according to national fast bowler and West Indies prospect Ronsford Beaton.
In an interview yesterday with Stabroek Sport via telephone, the 20-year- old speedster stated that although he is new to the senior national ranks, he wasn't overawed by the occasion compliments of his experienced team mates who guided his induction.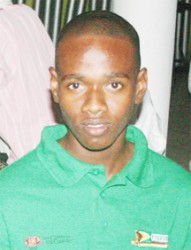 "It was a great learning experience for me and I will be trying my best to improve and build on my abilities. The team gave me the courage and belief that I could compete against seasoned West Indian players. I will continue to put my best forward as I look to progress and hope things get better.
"Currently I am a part of the four-day and super 50 teams and my intention is to incrementally improve as I focus in totality on my game. I have to continue to put the ball in the right areas while playing my brand of cricket and supplementing my strengths."
The 6'3 tear-away quick further stated that he believes he is amongst the best promising fast bowlers in the Caribbean and that he should be on the cusp of his maiden selection to the Windies A-team.
"Amongst the current crop of young fast bowlers in the region, I am among the quickest and my current performances have shown that I am capable of handling the occasion and playing against the best players. I believe that I should and deserve to be in the team and will continue to work towards achieving that goal".
Quizzed about his future endeavours and if his showing in the recent 20/20 championship would go a long way towards impacting a possible maiden West Indian selection, the precocious pace man stated that he envisions wearing the famed maroon in the not so distant future.
"My aim and aspiration has always been to represent the West Indies and become a permanent fixture within the side. It's been dream of mine since the age of 14 that I hope to accomplish. I want to be among the best and I realize and understand that only performances on the field of play is going to make this aspiration a reality".
Most Read This Week