Simpson Guillen, who died in Christchurch, New Zealand, on Friday, aged 88, holds a unique record.
Described yesterday by his contemporary, Sir Everton Weekes, who marked his own 88th year last week, as "a very good wicket-keeper" and "one who thought more of his batting", Guillen is the only West Indian among the 13 who have played Test cricket for two countries. He had three Tests against Australia and two against New Zealand on the 1951-52 tour Down Under and, after emigrating from his native Trinidad at the age of 28, three for New Zealand in the 1956 series, significantly against the West Indies.
Widely known as "Sam" or "Sammy", he was so taken by the beauty of New Zealand and the opportunities it offered on his visit with the West Indies that he emigrated there, aged 28. Although he occasionally returned to the Caribbean, Christchurch would be his home for 60 years, he and his wife, Val, also a wicket-keeper at provincial level, who survives him, raised four children.
He was the second oldest surviving West Indian Test player, after Andy Ganteaume, 92, and the oldest on the New Zealand side.
Guillen came from a family with a strong cricketing background.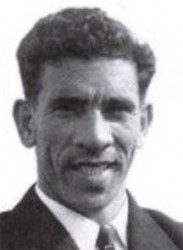 His grandfather, Victor, was an umpire who stood in home Tests against England. His brother, Noel, was a teammate for the Queen's Park Cricket Club and for Trinidad in the 1950s. Justin, Trinidad and Tobago's present opening batsman, is a grand-nephew and Logan van Beek, his grandson who played for New Zealand's in the 2010 Under-19 World Cup and for Canterbury, the province which Simpson represented in 42 matches.
Logan was also a basketballer on the New Zealand youth team.
Guillen was included in New Zealand's Test team in the 1956 series after an outstanding season. He scored 400 runs at an average of 80 with his highest first-class score of 197, that helping Canterbury to win the provincial championship.
Even though he had not yet fulfilled the residential qualification, the West Indies made no objection.
"When I came out to bat, all the West Indies boys gathered around, raised their caps and raised three cheers," he recalled in his autobiography, Calypso Kiwi. "Words can't explain how I felt."
New Zealand lost the first two Tests but won the last, their first after 26 years in Test cricket. Guillen had the distinction of effecting the last dismissal, stumping Alf Valentine off Harry Cave. Strangely, he was never chosen again.
Weekes (born February 26, 1925) described Guillen (born September 24, 1924) as a "real team man who always looked on the lighter side of things."
He recalled an occasion in the 1951-52 series in Australia when Guillen was sent as a nightwatchman in the Melbourne Test.
"He walked out without a bat and, of course, took a lot of teasing from us about it," Weekes said. "But he was the kind of person who enjoyed a joke, even on himself. And he was a good cricketer who also enjoyed the game to the fullest. My sympathies go out to his wife and family."
The late Gerry Gomez, a team mate at Queen's Park Club, Trinidad and the West Indies, once called Guillen "one of those rare characters who had the ability to amuse without offending decorum and his general nature was always kind-hearted, generous and cheerful."
Guillen also kept goal for Western in the nationwide New Zealand football tournament and, even into his 80s, was an avid golfer. (TC)
Around the Web