Incumbent president of the Guyana Amateur Powerlifting Federation (GAPF) Peter Green was yesterday voted unopposed to the top post of the Guyana Rugby Football Union (GRFU) when the union held its annual general meeting at the Guyana Olympic Association (GOA) building.
Green, who has led the GAPF to earn Association of the Year honours in 2010 and 2012, succeeds Colonel John Lewis who declined a second term for the post after he was nominated.
Senior vice president, Mike McCormack returned to his post unanimously as did Honorary Secretary, Nicole Nero and Match Secretary, Peter Campayne. Lieutenant Colonel Ramkarran Doodnauth replaces Alwin Etwah as the junior vice president; Roger Perreira succeeds Leonardo Butcher to the post of Honorary Treasurer after he garnered 15 votes to Butcher's four.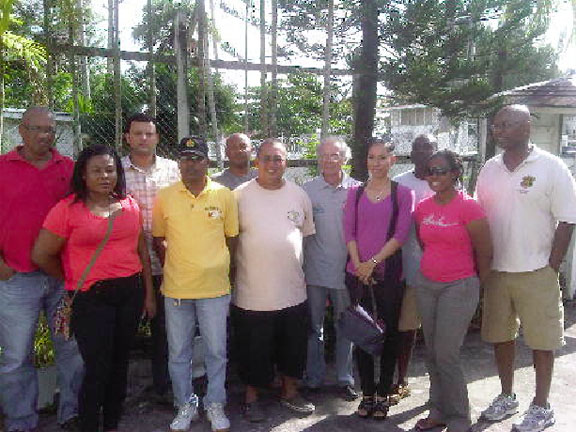 Butcher (four) also failed to garner more votes than Arianne Mangar (17) for the post of Assistant Secretary/ Treasurer.
Marissa Lowden was voted unopposed as the union's Public Relation Officer (PRO).
Alfred Granger, Captain Earl Edghill and Robin Roberts were voted as the three committee members.
In his first speech as president, Green stated that he will try to do what is best for the union but every executive has to pull his or her own weight as well.
"Like I have done with power lifting I will do my best with rugby but everybody has to work as a team," Green cautioned.
"There is a programme already in place and we have to build on that programme. Mike (McCormack) will be arranging a meeting as early as possible.
"My methods of leadership maybe a bit unorthodox but my idea is to put the sport of rugby right up there with football and cricket," Green added to the applause of those in attendance.
Green, who is also the president of the successful Hornets rugby team, dispelled that there would be no conflict of interest with him occupying the top post on the GAPF and the GRFU as power lifting is an indoor sport while rugby is the opposite.
The new GRFU boss thanked Lewis for the job he did during his one-year tenure as well as outgoing members of the last executive.
In his speech, Lewis congratulated Green and mentioned that the new executives should be meeting as soon as possible for a smooth transitioning of the union.
The Returning Officer was Earl Gomes.
Around the Web