Guyana's Harpy Eagle Martial Arts Academy returned with 12 medals including three of the gold variety after competing at the TAK National Martial Arts karate championships held last weekend in Trinidad and Tobago.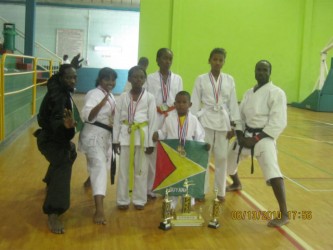 Sensei Troy Bobb, led the team of five karatekas – Twyle Shuman, Marcus Stevenson, Zoann Shuman, Isaiah Stevenson and Crystal Emanuel, was adjudged the Grand Kata Champion in the 35 years and over category. He  also won a gold  medal in the 35 years and over Kata.
Stevenson and Emanuel competed in the 13-15 years category of the championship and each won gold in sparring. They both also won silver and bronze medals in Kata and weapons.
Shuman (5 years and under) won two silver medals in Kata and sparring while Stevenson (8-9 years) won silver and bronze medals respectively in Kata and sparring.
Shuman claimed silver in sparring in the 10-12 age group.
Around the Web