Junior Sportsman of the Year, Paul DeNobrega along with fellow young national riders of the Coco's Cycling Club, Raynauth Jeffrey, Raul Leal and Christopher Holder will wing out on Monday for a 30-day training and competing stint in Colombia.
The move is the first of many overseas training and competition stints geared towards the young riders evolving into competitive cyclists on the world stage.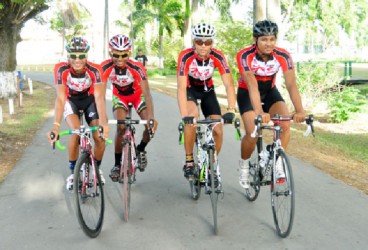 "We are sending the youngest riders of our club to Colombia on Monday so they can have good training and to compete over there to help raise their level of riding because over there the terrain is radical" said president of the club, Jerome Allicock yesterday.
"Colombia is very hilly and its altitude is way higher than ours and those factors will put a lot of pressure on their bodies, especially their legs and once they are able to adapt to that kind of environment when they go to less rigorous terrains they will be able to dominate," Allicock declared.
He added:"We will be sending them to other territories to compete and train like Trinidad and Tobago and eventually the States (USA) but this is the first one planned to ultimately allow them to improve and not only compete but dominate on the international scene."
Since owner Ian 'QB' Davis assembled the local version of the Miami-based club, DeNobrega, Jeffrey, Leal and other Team Coco's riders have been very successful.
DeNobrega placed second in the grueling five-stage road race and copped a gold medal at the Junior Caribbean Cycling Championships in the Dominican Republic.
Fellow club member, 16-year-old Michael Anthony also copped a gold medal at the games and would be heading to Colombia had it not been for his upcoming CXC exams.
The trio of Jeffrey, DeNobrega and Leal won five of the 10 events staged by National Cycling Coach, Hassan Mohamed in the first quarter of the season.
Nineteen year-old Jeffrey took pole position in three of those events while Leal, 16 and DeNobrega, 19, won two others.
During yesterday's interview, Coco's president also stated that the move is one that will benefit the entire nation as it will eventually lead to placing Guyana on the map in the sport of cycling.
"This is not about Team Coco's alone," Allicock cautioned. "This is about our entire country going forward when it comes to cycling, but we cannot carry all the local riders for training overseas so I encourage all other cyclists and stake holders to rally around these youngsters and hope for their success because they are talented and very dedicated and want to make this nation proud."
Around the Web