Georgetown Cricket Club (GCC) edged Airbenders 1-0 compliments of a Stuart Gonsalves first half strike in the 11th minute as action in the John Fernandes Insurance Service (JFIS) second division hockey league continued at the Saints Recreational Ground, Carifesta Avenue on Saturday.
Highlighted by dogged defending by both units, Stuart upon receiving a pass in the Airbenders penalty area clinical converted what would eventually be the lone goal of a grueling contest.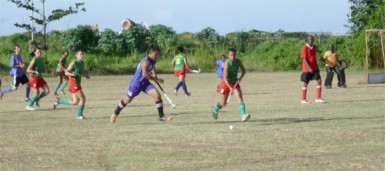 In the opening game of the afternoon, All Greys through a Dexter Wyles 65th minute strike edge Old Fort 1-0 to continue their good form in the tournament.
Action continues tomorrow at the same venue with Airbenders taking on Saints in the opening game at 14:30hrs while GCC will face off with Old Fort in the feature contest from 16:00hrs.
Around the Web