By Neil Barry Jr.,
The Guyana Cricket Board (GCB) in partnership with the New Guyana Pharmaceutical Corporation (under their Limacol brand) yesterday launched the GCB/Limacol Inter County Under 15 two-day cricket competition.
At a simple launching ceremony at the GCB boardroom on Regent Street, New GPC Incorporated Marketing Manager Trevor Bassoo, said that he was pleased to be associated with the GCB in sponsoring the competition with an aim of developing the game at the youth level.
"We at the New GPC are proud to be associated with cricket and the development of the game moreso now with our young cricketers and thanks to GCB for giving us the privilege to be a part of this competition," said Bassoo.
"What is more important is that we now have the opportunity to help in the development of the young cricketers who are the future stars and with that being said, we are now the official sponsors of the current GCB Under-15 tournament which leads to the West Indies tournament that is being played in June of this year."
Ravi Ramcharitar, Finance Director of New GPC Inc., said his company views the venture as not only playing a developmental role, but also to mould future 'Chanderpauls, Sarwans and Laras'.
"We are pleased to be partnering with the GCB in terms of this tournament that is being called the Limacol Cup. The Under-15 level, as I see it, is the best place to fuse funds with the development of cricket, as it is these young players who will be the next generation of cricketers for Guyana. It is this level we wish to be involved in."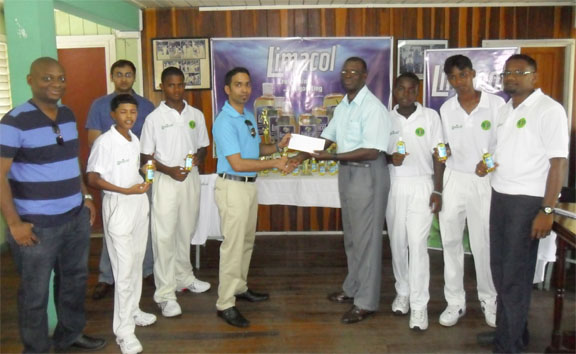 Ramcharitar added that his company was willing to play a great role by getting involved with the game at the community level next year.
In addition to offsetting the expenses for the tournament, the sponsors have also outfitted all the teams and umpires with branded polo shirts, while each team member will be given one bottle of Limacol.
Acting president of the GCB, Faizul Bacchus, applauded the sponsors for joining forces with the national body, before Competitions Committee Chairman Colin Europe outlined the points system and playing conditions for the tournament. Five venues, namely Everest, Demerara Cricket Club, Georgetown Cricket Club, Enmore and Wales Community Centre ground, will be used for the tournament which gets underway today with two matches.
At the Enmore Community Development Centre ground, Essequibo will take on Berbice. The umpires will be D. Austin and O. Archer while at Everest, Demerara and the President's XI will do battle with umpires D. Nagasar and O. Samaroo taking charge.
The four squads from which the final playing 11 will be chosen from reads: Demerara-Bhaskar Yadram (Captain), Ronaldo Mohammed, Clevon Mc Ewan, Timothy Mc Almont, Jaddel Mc Allister, Sajur Hetheramani, Ashmead Nedd, Colin Barlow, Bhutnarine Singh, Kelvin Shewprasad, Paul Thomas, Afzal Rahaman, Dhanram Samaroo and Stephan Campbell.
Essequibo: Christopher Latchman (Captain), Mark Williams, Sachin Persaud, Orlando Jailall, Redell Reddy, Mark Lewis, Besham Moses, Akash Ramanan, Azimul Khan, Joshua Jones, Shamar Britton, Vishal Singh, Randy Rooplall and Ianzo Narine.
GT&T Berbice- Adrian Suloway, Tyrell Peters, Kyle Michael, Matthew hardial, Titus Webster, Filon Crandon, Steve Deonarine, Joel Seetaram, Joshua HArrichand, Joshua Gobin, Rameshwar Somwaru, Sylus Tyndall, Veramottoo Semwansane and Brandat Singh.
President's XI: Andrew Clifford, Vickram Talmakund, Lkeshram Seyhodan, Richie Lucknauth, Kris Ramnarine, Kevin Sinclair, Vevekand jadit, Zameer Inshan, Darshanan Indar, Shamar Doosraj, Eric Gobin, Shane Wong, Darshan Persaud and Raymond Perez.
Around the Web