Cherokee Park through doubles from Jamal Samuels in the fourth and 12th  minutes and Aubrey Fredrick in the third and 15th minutes crushed Blueberry Hill 4-1  when the Guinness Greatest of the Streets Linden Edition continued on Saturday at the Wisroc/Amelia's Ward Bus Park with six fixtures.
Troy Miller was on target in the 17th minute for the losers.
In other results, Aliku and Minibus played to a one all draw. Averell Johnson gave Aliku the early lead in the fourth minute while Minibus leveled proceedings compliments of a John Waldron effort in the 15th minute.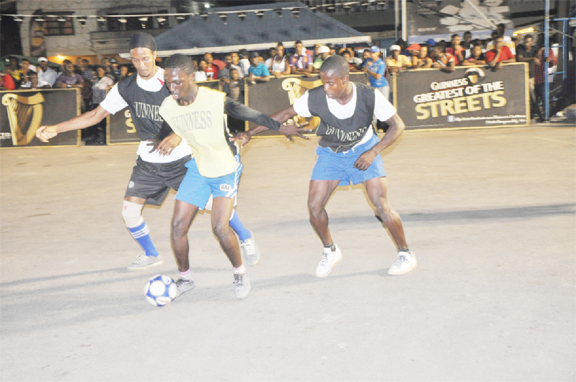 Star boys defeated High Stars 3-0 through strikes from Melvin Benn, Jermaine Grandson and Tony Adams in the 14th, 18th and 19th minutes respectively while South Stars and Rough and Rugged played to a three all draw.
A Devon Green double in the sixth and eighth minute and a solo strike from Kevin Croal in the 11th minute lead the charge for South Stars while Rough and Rugged countered through a Quincy Davis brace in the 10th  and 15th minutes and a Marlon Cox singular conversion in the ninth minute.
Coomacka United, through strikes from Ateba Edmonson and Derwin Daw in the 12th and 19th minutes respectively edged Constab 2-1. Germaine Fordyce had given Constab the early lead with a third minute conversion.
In the final game of the vesper, Eagles and Trainline Warriors played to a one all draw. Lymden Anderson gave Trainline Warriors the early lead in the seventh minute only for Eagles to quickly respond with the equalizer through Keon Bristol in the eight minute.
Action continues on Saturday at the same venue with the commencing of the knockout round.
Around the Web