Christiansburg Wismar Secondary School compliments of power forward Travin Dryden's 42 point effort destroyed defending champions Linden Technical Institute (LTI) 102-32 as the 9th edition of the Linden Secondary Schools U19 basketball championships opened at the Mackenzie Sports Club hard court on Monday.
Dryden's effort was supported by teammates Terron Welch, Mario Batson and Edmar Semple who scored 22, 18 and 11 points respectively.
For the losing LTI team, Akeem Morrison scored 11 points while Ian Williams finished with eight in the lone fixture of the day.
Prior to the action Regional Chairman Sharma Solomon told the players of the need to excel both in their academic and sporting pursuits and made reference to guard Akeem Kanhai whose portrait hangs over the playing facility on a huge billboard.
Solomon said that Kanhai, a product of the championships, was a fine example for all to follow from his academic achievements which matched his on court skills.
Interim Management Committee Chairman Orin Gordon, who tossed the opening ball, praised the tournament saying he looked forward to it building itself as among the most talked about tournaments in Guyana.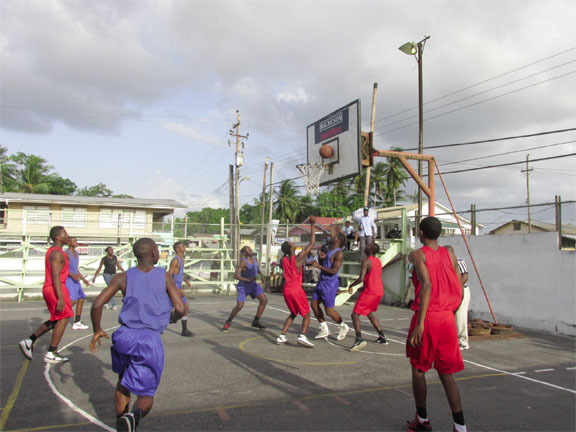 Linden Town Week Committee Chairman Eon Halls said that he was pleased that the tournament continues to be part of the annual anniversary celebrations of the town while Senior Physical Education Officer in the Ministry of Education Lindley Langhorne advised that the tournament be one which demonstrated the discipline among the players and schools and that time was a key factor for any successful championship.
President of the LABA Haslyn Graham thanked the sponsors both locally and overseas who have continued to contribute. He singled out former LABA president Collin Aaron who was instrumental in having Two Brothers Gas Station and the Slingerz Family provide the uniforms for the schools and Linden Alphonso who continues to engineer things from the United States.
Graham mentioned that the association plans to also look at having competitions at the Under 17, 15 and 13 levels to ensure the players are properly schooled fundamentally noting that scholarships will come their way once a proper programme is implemented in the school system for which the association will play a major role.
The tournament is being played in an initial round robin format with the four top schools from the six moving through to the semifinals. The tournament will continue this afternoon with another double header at the MSC hard court starting at 14.30h or 2.30pm and the second game at 16.00h or 4.00pm.
Around the Web