(Reuters) – Jason Collins, a veteran center in the National Basketball Association (NBA), announced yesterday that he was gay, becoming the first active player from any U.S. professional sports league to publicly reveal his homosexuality.
Collins, a free agent who played with the Washington Wizards and Boston Celtics during the NBA's 2012-13 regular season, made the announcement in an interview with Sports Illustrated that was published yesterday.
"I didn't set out to be the first openly gay athlete playing in a major American team sport. But since I am, I'm happy to start the conversation," he said.
"I wish I wasn't the kid in the classroom raising his hand and saying, 'I'm different.' If I had my way, someone else would have already done this. Nobody has, which is why I'm raising my hand."
In the ultra-scrutinized world of U.S. professional sports, there had never been an openly gay player in any of America's major professional sports leagues, although some had revealed their sexual orientation after retiring.
In a country with openly gay politicians, entertainers and even soldiers, professional sports had become a final frontier and questions were being asked why sports, which helped play a key role in changing public opinion on racial discrimination, was out of step with the rest of American society.
Former U.S. President Bill Clinton, whose daughter Chelsea was a classmate of Collins at Stanford University, applauded Collins for coming out.
"Jason's announcement today is an important moment for professional sports and in the history of the LGBT community," Clinton said in a statement.
"It is also the straightforward statement of a good man who wants no more than what so many of us seek: to be able to be who we are; to do our work; to build families and to contribute to our communities. For so many members of the LGBT (lesbian, gay, bisexual, transgender) community, these simple goals remain elusive.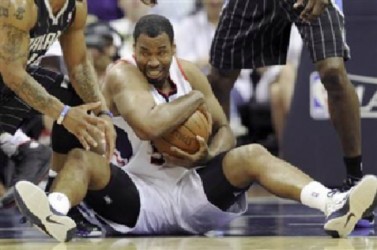 "I hope that everyone, particularly Jason's colleagues in the NBA, the media and his many fans extend to him their support and the respect he has earned."
NBA Commissioner David Stern also praised Collins for breaking the barrier.
"Jason has been a widely respected player and teammate throughout his career and we are proud he has assumed the leadership mantle on this very important issue," Stern said in a statement.
Collins, 34, has played for six NBA teams since entering the league in 2001 and twice appeared in the playoffs. He said he wants to continue playing and hopes to find a new team.
It had seemed like only matter of time until an active player said he was gay after the issue had become one of the hottest topics in North America, no more so than in the National Football League (NFL), the most macho of America's pro sports.
In the days leading up to this year's Super Bowl in New Orleans, San Francisco 49ers cornerback Chris Culliver told reporters he would not welcome a homosexual teammate into the locker room.
He later retracted his comments but reports have since emerged of NFL teams asking college players about their sexuality at a scouting combine in February.
This prompted the New York State attorney general to send a letter to the NFL, urging the league to take action and adopt a formal policy of sexual discrimination.
Culliver's comments are not typical of the attitude of all professional sportsmen. Indeed, there are several high-profile NFL players, most notably Chris Kluwe and Brendon Ayanbadejo, who have advocated for gay rights.
Both believe it was only a matter of time before a professional player came out publicly.
Around the Web