ROSEAU, Dominica,  CMC – Rookie off-spinner Ashley Nurse snatched a 14-wicket match haul as Barbados flattened Windward Islands for the third lowest ever score in the modern history of regional first class cricket yesterday, to romp into the final of the Four-Day Championship.
Resuming the second day at Windsor Park on 31 for three in their first innings, the Windwards capitulated for 44 and then asked to follow on, were dismissed for 67, to crash to an innings and 101-run defeat, 21 minutes after lunch.
Nurse, in his first season of first class cricket, claimed seven for 10 in the first innings and  seven for 30 in the second, to finish with extraordinary match figures of 14 for 40 runs.
For the Windwards, their first innings total was their lowest ever in first class cricket, beating their 54 against Guyana, 15 years ago at Arnos Vale.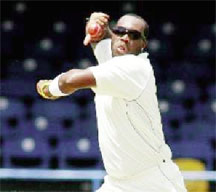 They also narrowly avoided the shame of rewriting the record for the lowest ever regional first class score. Leeward Islands holds that embarrassing honour with 39 against Combined Campuses and Colleges last year, eclipsing Guyana's 41 at Sabina Park back in 1986.
There was no indication of what would have unfolded when the Windwards, the pre-match favourites, took the field, still 192 runs adrift of first innings points.
In a shocking turn of events, however, the Windwards lost their last seven wickets for 13 runs in the space of 10.1 overs, to concede a 168-run first innings lead.
Mathurin, the night-watchman, fell in the fifth over of the day after adding just one to his overnight four, bowled by a Nurse arm ball and Andre Fletcher followed in the next over, also for five, caught at the wicket cutting at left-arm spinner Sulieman Benn who finished with three for 15.
In his next over, Nurse picked up captain Liam Sebastien without scoring, caught at second slip by Javon Searles and with no runs added, had Lyndon James caught and bowled for nought, as the Windwards went into terminal decline at 38 for seven.
If the Windwards were expecting a turnaround in their second innings, it never came as they crashed to 47 for seven at lunch, with Nurse picking up six for 18 at the interval.
In just the second over of the innings, Tyrone Theophile went without scoring, caught at the wicket as he swept at Benn (3-35), with Windwards yet to get off the mark.
Barbados then had the prized wicket of the tournament leading run-scorer Devon Smith for four, the left-hander driving Nurse to cover where captain Kirk Edwards held the chance at four for two.
Fletcher, who top scored with 27, and West Indies one-day opener Johnson Charles (9) then engaged in the best stand of the innings by putting on 20 for the third wicket.
The right-handed Fletcher tried his hand at resistance, facing 53 balls in just under an hour at the crease, striking two fours and a six.
Charles hung around for just 21 minutes though before popping a catch to Kevin Stoute at forward short leg off Nurse, and when Keddy Lesporis shouldered arms three balls later and was lbw, the Windwards were again in turmoil at 24 for four.
They then lost Sebastien for three and James for the second time without scoring, before Fletcher perished on the stroke of lunch, pouched at leg slip by Searles.
After the break, the end came swiftly as Barbados required less then half-hour to clean up the tail.
Scoreboard
BARBADOS 1st Innings 212
WINDWARD ISLANDS 1st Innings
(overnight 31 for three)
D.S. Smith c Boucher b Nurse                                        14
T. Theophile c Nurse b Benn                                             4
J. Charles b Nurse                                                                 5
A. Fletcher c wkpr Dowrich b Benn                               5
G. Mathurin b Nurse                                                            5
*L. Sebastien c Searles b Nurse                                       0
+L. James c and b Nurse                                                    0
K. Lesporis lbw b Benn                                                        1
S. Shillingford st Dowrich b Nurse                                0
D. Johnson c Carter b Nurse                                           1
N. Pascal not out                                                                 5
Extras (b1, lb2, nb1)                                                          4
TOTAL (all out, 25.1 overs)                                           44
Fall of wickets: 1-19, 2-21, 3-27, 4-37, 5-37, 6-38, 7-38, 8-38, 9-39, 10-44.
Bowling: Benn 13-5-15-3; Roach 2-0-16-0; Nurse 10.1-4-10-7 (nb1)
WINDWARD ISLANDS 2nd Innings (following on)
D.S. Smith c Edwards b Nurse                              4
T. Theophile c wkpr Dowrich b Benn              0
J. Charles c Stoute b Nurse                                 9
A. Fletcher c Searles b Nurse                         27
K. Lesporis lbw b Nurse                                     0
*L. Sebastien c Carter b Nurse                        3
+L. James c Cummins b Nurse                       0
G. Mathurin c Cummins b Benn                     4
N. Pascal c and b Nurse                                     0
S. Shillingford st Dowrich b Benn                13
D. Johnson not out                                             4
Extras (lb2, nb1)                                                 3
TOTAL (all out, 27.1 overs)                     67
Fall of wickets: 1-0, 2-4, 3-24, 4-24, 5-34, 6-40, 7-47, 8-58, 9-63, 10-67.
Bowling: Nurse 14-7-30-7 (nb1); Benn 13.1-4-35-3.
Result: Barbados won by an innings and 101 runs.
Series: Barbados advance to the Final.
Man-of-the-Match: A. Nurse (Barbados).
Umpires: P. Nero, J. Wilson.
Around the Web