The 47-man national rugby squad continues to prepare assiduously for the NACRA senior men's 15s Caribbean championships home game against Barbados on May 18.
During Saturday's trial match at the National Park's rugby field involving the squad divided into two teams (green and yellow), the players once again went hard against each other in scrimmaging as they continue to vie for places on the final 22-man team which will be selected in five days.
The yellow team comprising of mostly national players defeated the green team 35 to 15. National player Claudius Butts was instrumental in helping the yellow team pull out the win with two tries and several game winning plays.
Meanwhile, the Guyana Rugby Football Union (GRFU) is currently working on finalizing a Strategic & Development Plan to ensure quality, preparation and performance at all levels.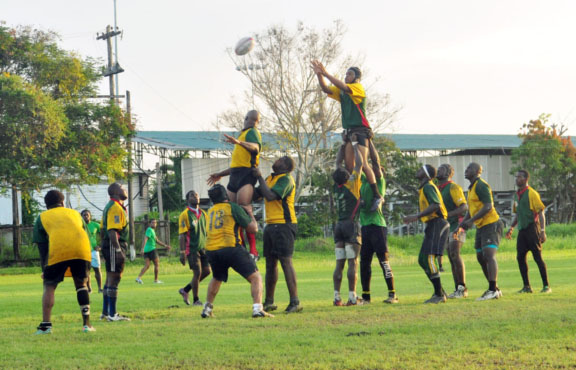 The GRFU is currently putting systems in place which will ensure much thoroughness and detail that epitomizes the sense of conscientious guardianship within the union for the welfare of rugby in Guyana.
"Based on the level of success achieved in the past, I have every confidence in the GRFU's ability to again successfully realize many of the key objectives it has set" said PRO Marissa Lowden.
Lowden added "The union is currently devising a plan to reach out to several organizations for support to help facilitate the players in the upcoming matches."
The shortlisted players vying for a spot in the final 22- man squad  are: Cyon Kitt, Delroy Gordon, Rondell Mc Arthur, Dwayne Schroeder, Kevon David, Rickford Cummings, Daniel Anderson, Clive Prowell, Go
nsalves, Christopher Singh, Breon Walks, Jaryl Moore, Claudius Butts, Rodwell Hutson, Lance Adonis, Jamal Angus, Kevin Joseph, Ato Talbot, Troyton Braithwaite, Osei McKenzie, Claude Alexander, Marvin Stephens, Allien Crawford, Keifer Lopes, Walter George, Jaryl Archibald, Terrence Daniels, Ryan Dey, Jason Tyrell, Akeem Fraser, Peabo Hamilton, Troy Bascome,  Elwin Chase, Godfrey Broomes, Carl Lewis, Leon Greaves, Troy Arjoon, Jason Ridley, Grantley Williams, Blaise Bailey, Andrew Jarvis,  Avery Corbin, Peter Bristol, Kenroy Evening, Marvin Lawrence, Orin Williams and Clinton Mars.
Caption  Action during Saturday's trial game at the National Park's Rugby field. (Orlando Charles photo)
Around the Web