LONDON,  CMC- World T20 champions West Indies and reigning kings of One Day Internationals India square off in a highly anticipated and crucial Group B clash of ICC Champions Trophy at the Oval here today.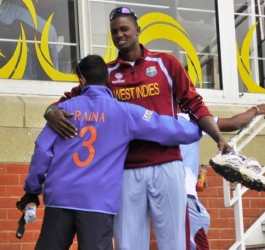 Both teams have won their opening group matches in contrasting fashion and a win will almost guarantee a spot in the last four stage of the tournament, being held for the last time.
India defeated injury-hit South Africa by 26 runs in Cardiff while the West Indies eked out a close two-wicket win over Pakistan in a low-scoring game on Friday.
"We always enjoy playing against India. We're definitely looking forward to some good competition," said in-form middle order batsman Marlon Samuels.
"It should be a good game; we are both on two points at the top of the group and a win would take us closer to the
semi-finals, so there is a lot to play for when we meet them".
West Indies and India, hugely popular among the expatriate population in England, haven't faced each other in an ODI in England in the last 30 years.
The two sides are studded with key players aware of each other's strengths and weaknesses having just played in the Indian Premier League.
Rival captains Mahendra Singh Dhoni and Dwayne Bravo are Chennai Super Kings teammates while Virat Kohli and Chris Gayle turned out for Royal Challengers Bangalore.
"The last couple of years we have become a more experience team. I think we saw the Pollard's, the Marlon Samuels even Chris (Gayle) to a certain extent curb their natural attacking extinct," said Windies head coach Otis Gibson.
"We are finding now that a lot of our players especially the IPL players are also able to adapt and play a long innings when the situation requires and that's one of the things we have worked really hard on over the last couple of years".
West Indies will be without the services of wicketkeeper Denesh Ramdin, who has been suspended for two ODIs and fined 100 per cent of his match fees after he claimed a catch off Misbah-ul-Haq during the game against Pakistan at The Oval.
Johnson Charles is likely to keep wicket after a wicketkeeping practice at The Oval Monday first standing to Sunil Narine and then having more drills from the fielding coach.
West Indies have a 2-1 win-loss record against India in the Champions Trophy.
Both Caribbean wins came on sub-continental wickets while India beat West Indies in Johannesburg.
"We have powerhitters, batsmen who can bat through, allrounders and very good spinners like (Sunil) Narine," said Samuels.
"So it's a good balance. We're just getting stronger."
First ball is 10:30 am (5:30 am Eastern Caribbean Time/4:30 am Jamaica Time).
Around the Web