Laured 'Nightmare' Stewart envisions a dream debut but a restless night for his opponent, Anson Greene when the pair matches gloves on June 29 in the 28th edition of the Guyana Fight Night Pro Am card at the Uitvlugt Community Centre ground.
The talented pugilist has vowed to use his outstanding amateur career (29-8) and a victory over Green as a stepping stone for greatness in the paid ranks.
"I have always known I wanted to be a professional fighter. I have always wanted to be a world champion as a professional boxer and the amateur career was that stepping stone," Stewart told Stabroek Sport yesterday.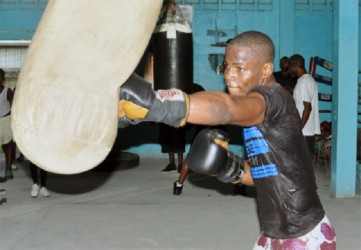 "The experiences boxing around the world, in Barbados, Trinidad, St Maarten,  everywhere I have boxed against tough, hard opponents, all of them were learning curves for me for this real game which is the professional ranks and come June 29 it is going to be a long restless night for Green" Nightmare declared.
Stewart, 19, is brimming with confidence against the 24-year old Green and stated that he plans on leaving a lasting impression on fight fans.
"They say  that your first impression is a lasting impression so I'm going out there to make a statement and come away with an impressive victory, I'm not going for the knockout but if it comes goodnight Mr. Green" declared the Forgotten Youth Foundation (FYF) Gym product.
Will the 'Nightmare' have a dream debut or will Green (1-1) win his second fight of his career.
Meanwhile, the card is scheduled to be headlined by Trinidad and Tobago-based Guyanese, Dexter Gonsalves (5-1, 2, 2 KOs) and Barbadian Revlon Lake (6-8, 2, 1 KO) for the local junior lightweight title. Lake, the former national lightweight champion, is on a three-fight losing streak while Gonsalves has not fought since 2009.
Both boxers will be looking to resuscitate their respective careers. An all-out brawl is envisioned.
The undercard will feature another debutant Romeo Norville. Norville will face Eversley Brown in a four-round middleweight contest.
Troy Lewis (4-16, 1, 2 KOs) will also make his return to the ring; he will face the hard-hitting Berbician, Kelsey George in a four-round super middleweight rematch. Lewis defeated the Berbician in his debut bout in September 2011.
George (0-6) will be aiming to turn the tables on Lewis and record his first professional victory while Lewis will be looking for his fifth win since turning pro in 1999.
Former world rater, Leon 'Hurry Up' Moore (29-2, 23 KOs), Rudolph Fraser, Shahid Alli and his United States of America opponent, Alan Phelan are also slated to do battle on the card. Moore will take on Fraser in an eight-round match up while Alli will face his Phelan over four rounds.
Names of the pugilists who will make up the amateur segment of the card will be announced subsequently.
Entertainment will be provided by Slingerz Family.
Admission is $1500.
Bell time is 20:00hrs.
Around the Web