President of the Guyana Football federation (GFF) Christopher Matthias on Sunday praised the organizers of the third edition of the Scotiabank/Pepsi Schools Football Academy for using the discipline of football as their platform for youth development.
Matthias made the remarks at the Ministry of Education ground, Carifesta Avenue during the closing ceremony of the football tournament. According to Matthias, the Academy focuses on the holistic development of individuals.
Matthias, who also spoke of the health benefits to be derived from recreational activities, disclosed that the GFF has taken up the challenge of creating an institution that will promote development in the sport.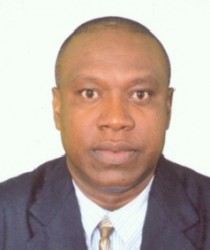 Matthias said that he believes that football is about being disciplined which includes teamwork adding that there are values to be learnt from winning and losing which included …."Learning to go again even after having lost, learning never to give up until the final whistle decides your fate," he said. Tutorial High School skipper, Shekela Fraser, who spoke on behalf of the athletes' spoke of her delight in participating in the programme and appealed for the neglect of female football to stop.
"We, the players are grateful to be able to participate in organised competition especially the females who seem to be neglected by other agencies and organizations," she opined. Fraser praised the Academy's sponsors/organizers and said that she longed for the time when female football will be the equivalent of male football.
"The stakeholders need to pay attention to us females for we are the pillars and foundation of every family and if given an opportunity we will excel and the records are there to prove us correct," she stated.
Meanwhile, Guyana Sports Development Foundation (GSDF) president, Colin Baker, said that the Academy was a success and welcomed interested sponsors to partner in the 2014 edition. He said an increase of sponsors will help to offset the expenses of the Academy which patronizes academics as well. The budget for this year's Academy stands at US$30,000, Baker revealed. Baker said that the players/students end of term results were examined and a few from each respective region will receive scholastic certificates.   Scotia Bank's Marketing Manager Jennifer Cipriani said her company was proud to be co-sponsors of the Academy. Sharing her experience after watching the male final between Charlestown Secondary and Mackenzie High, Cipriani said.."I felt as if I was looking at the World Cup."
Alexis Langhorne, Representative of Demerara Distillers Limited (DDL) congratulated the teams that participated and said DDL was pleased to give back to today's society.
Around the Web