The triathlon team sprint event, the first Olympic Day activity by the Guyana Olympic Association (GOA) to be observed yesterday morning was won by Team 10 which comprised Calvin McDonald, Raynauth Jeffery and Daniel Scott.
The team received the first place prize of $30,000.00 and trophies. Second and third places went to Team 12, Accalia Khan, Paul DeNobrega and Devon Barrington and Team 1, Isaac DaSilva, Akeem Arthur and Desmond Amsterdam. Both teams received trophies as well.
The event which involved the Guyana Amateur Swimming Association (GASA), Guyana Cycling Federation (GCF) and the Athletics Association of Guyana (AAG), commenced with a 750m race among swimmers at the National Aquatic Centre, Liliendaal, East Coast Demerara.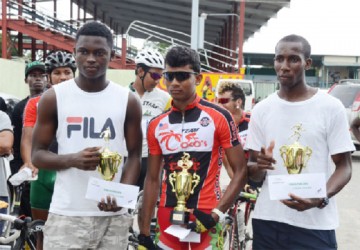 The race, comprising of 15 laps, attracted 20 participants and saw Omari Adams  exiting the 50m pool first ahead of double Olympian Niall Roberts and national swimmer, Joseph Seguina who finished second and third respectively.
Adams, along with Roberts and Seguina, kicked things off for their respective cycling partners, Toshawuna Doris, Warren McKay and Rastaf O'Selmo who then tagged the athletes in the National Park Circuit after completing their 12 miles along the East Coast before concluding in the Park.
Doris was unable to maintain her position in the cycling leg of the triathlon when challenged by seasoned cyclists Warren McKay, Jeffery and  O'Selmo who finished first, second and third respectively.
The final leg of the three stage event ended in a twist  with Calvin McDonald holding on to first place  while Devon Barrington came from behind to finish second ahead of Isaac DaSilva. Alika Morgan and Rondel Austin were fourth and fifth respectively.
Meanwhile, the final Olympic activity will be observed today with 10k Team run, which starts outside of the Young Men Christian Association (YMCA) building at Camp Street and Thomas Road at 06:00hrs.
The International Olympic Day activity also fields a walk/jog segment for the non-competitive athletes and clubs in the competitive segment will vie for $132,000.00 in prizes. T-Shirts and International Olympic Committee (IOC) Certificates will also be given to participators.
Around the Web