BUENOS AIRES, (Reuters) – It was a disgrace to have associated Argentina's 1978 World Cup-winning players with the military dictatorship of the time, former coach Cesar Luis Menotti has said.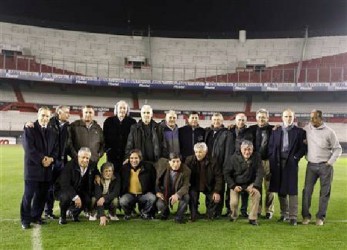 "I think this group of players deserved recognition for having achieved glory," said Menotti at River Plate's Monumental stadium where he guided Argentina to a 3-1 win over the Netherlands in that final.
"I've suffered a lot, not for myself, but because there were players who were really disowned by the football world for this cowardice of comparing football with politics," he added on Tuesday, the 35th anniversary of the match.
Argentina's first World Cup victory was used by the military government, responsible for the torture and disappearance of thousands of opponents during the so-called 'Dirty War', in an attempt to improve its image abroad.
"These lads played for the people, they went on to the pitch and gave their all, so to mix the players with the dictatorship is to me a disgrace because the sole objective was to reach the final and it was exclusively their merit," said the 74-year-old Menotti.
The commemoration of the June 25, 1978 final on a bitterly cold Argentine winter's evening was organised by the team's captain Daniel Passarella, now president of River Plate, and attended by a majority of the men who made up Menotti's squad.
Passarella handed out Argentina shirts with the numbers the players had worn at the 1978 tournament to each of those present including goalkeeper Ubaldo Fillol, defender Alberto Tarantini, midfielders Americo Gallego and Ricardo Villa and forwards Leopoldo Luque and Daniel Bertoni.
Foreign-based midfielder Osvaldo Ardiles and forward Mario Kempes were not present.
Around the Web