Moen Gafoor continues to lead the Courts National Scrabble Championship
Following play on yesterday's second day of the championships which is being held at the Bank of Guyana Roof Garden.
Gafoor ended the second day's play with 13 wins and a spread of 3196 while defending champion Abigail McDonald and Robert Williams occupy the second and third positions.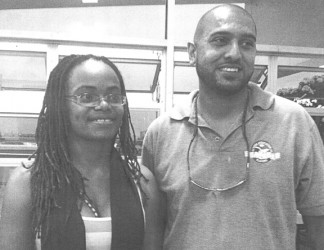 The competition which continues today is being held to determine the contestants for the playoffs to be held sometime next week.
McDonald, the only female Guyanese champion won 12 games and has a spread of 1641 while Williams, the only player to defeat McDonald is third with 11 wins and a spread of 1480.
Gafoor yesterday defeated James Krakowsky who is presently in fourth place with 11 wins (1332 spread) by 153 but suffered his only defeat to Leon Belony (463) losing by six points in the last match. Belony is fifth with 10 wins and 1672 spreads.
Gafoor in a brief interview with Stabroek Sport said he is in the best position so far in the preliminary rounds but stated that today's games can be different since he will be playing Fred Collins and McDonald who according to him are tough opponents.
McDonald said that she is satisfied with her performance in the championships adding that she was looking forward to the final matches today.
"I think I have a good showing in the tournament thus far and I am satisfied with my performance," she said adding that she feels that she is in a good position to qualify for the playoffs.
Around the Web