As Guyana prepares to welcome the return of international cricket after nearly a one-year absence, the Guyana Cricket Board (GCB) has spared no expense to ensure that ground preparations for the warm-up game and the facade of the GCB premises are of the highest standard.
Stabroek Sport visited the GCB office yesterday where preparations were underway to host the Pakistan/West Indies tour which starts on July 11 with a 50-over warm-up match against a local squad comprising Guyana's best national cricketers at the Georgetown Cricket Club ground (GCC),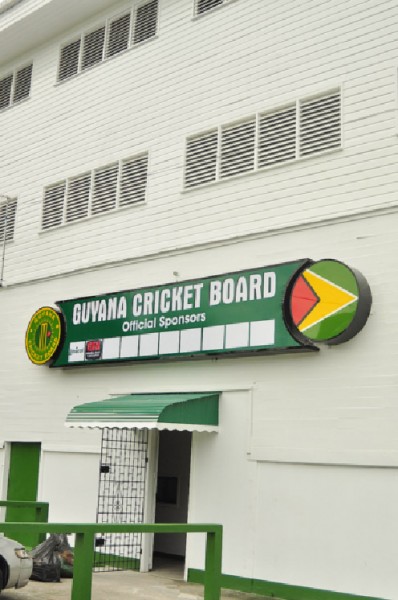 followed by the two ODIs on Sunday July 14 and Tuesday July 16.
The iconic GCC ground is the oldest and largest cricket ground in the Caribbean with a seating capacity of about 20,000.
In an invited comment, GCB Secretary Anand Sanasie said the ground and pitch are in good condition, along with drainage and irrigation systems. He also said patrons desirous of watching the warm-up game can do so free of cost but seating will only be available in the Rohan Kanhai stands.
On examination of the ground, Stabroek Sport found the outfield to be lush, even as preparations continue, while the pitch was in excellent condition boasting a hint of grass and a smooth, hard surface.
Sporting a new electronic official sponsors board at the office's Regent Street entrance, the exterior of the GCB has so far included the logos of current Under-19 Inter-County sponsors, Guyana and Trinidad Mutual Fire and Life Insurance Companies (GTM), along with current Caribbean Premier League (CPL) title sponsors and Limacol who also sponsored this year's Inter-County Under-15 which concluded in April.
Sanasie also said that though the sponsors board has a few more vacant spots, these will be filled by entities that sponsor various tournaments and competitions in the future.
Patrons can also purchase tickets from the GCB office today for the two upcoming ODIs.
Stand prices for Sunday, July 14, 2013 are:
Southwest (Green) – $3,500
Northwest (Red) – $2,500
Southeast (Orange) – $2,000
Northeast (Grass Mound) – $2,000
Stand prices for Tuesday, July 16
Southwest (Green) – $3,000
Northwest (Red) – $2,000
Southeast (Orange) – $1,500
Northeast (Grass Mound) – $1,500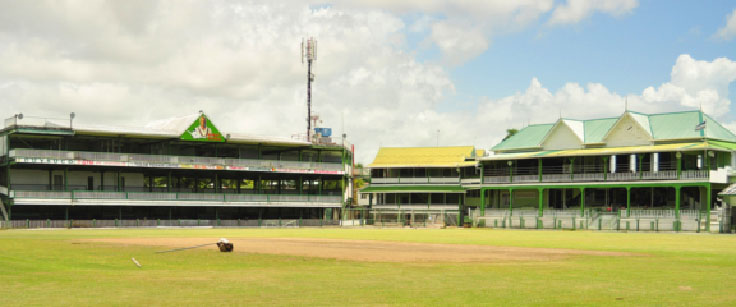 Around the Web