MORELIA, Mexico, CMC – Guyana's teenage sprinter Kadecia Baird ran a season's best 51.32 seconds to win the Women's 400 metres at the XXIV Central American and Caribbean (CAC) Senior Athletics Championships yesterday.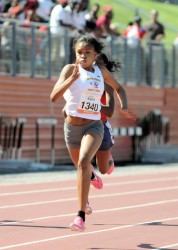 The 18-year-old also booked a place on Guyana's team for the IAAF World Championships in Athletics in Moscow, Russia with an "A" standard qualifying time.
Baird overcame challenges from Chrissan Gordon of Jamaica (52.52) and Kineke Alexander of St Vincent and the Grenadines (52.81) to win her first major title since securing a silver medal at the IAAF World Junior Championships in Athletics in Barcelona, Spain last year.
Baird's mark highlighted some good performances for Caribbean athletes today including Jarrin Solomon of Trinidad & Tobago, Shane Brathwaite of Barbados and Monique Morgan of Jamaica.
Solomon won the Men's 400m (45.54), ahead of Omar Johnson of Jamaica (45.67) and Gustavo Cuesta of the Dominica Republic (46.20).
In straight tussle between Brathwaite and Wayne Davis II of Trinidad & Tobago for the men's 110m hurdles' title, the Barbadian prevailed in 13.70. Davis, who earlier advanced with the fastest qualifying time of 13.50 took the silver in 13.75 and Yordan O'Farril of Cuba was third in 13.82.
Morgan continued the Caribbean's domination on the track, copping a victory in the Women's 100m hurdles in 13.25. Kierre Beckles of Barbados secured the silver in 13.37 and LaVonne Idlette of the Dominican Republic settled for third spot in 13.41.
On the opening day, Levern Spencer of St Lucia set a meet record and made the "A" qualifying standard in the Women's High Jump for the IAAF World Championships 2013.
Spencer cleared the winning height of 1.95 metres to erased her previous championship record of 1.94m set eight years ago in Nassau, Bahamas. Her compatriot Jeannelle Scheper picked up the silver medal with 1.92m and Saniel Atkinson of Jamaica was third with 1.84m.
In other Caribbean results, Andrew Fisher of Jamaica (10.14), Andrew Hinds (10.19) and Ramon Gittens of Barbados (10.19) ensured a Caribbean 1-2-3 finish in the Men's 100m.
Shery-Ann Brooks completed the sprint double for Jamaica when she stopped the clock at 11.21, ahead of Marielys Sanchez of the Dominican Republic (11.24) and Aleen Bailey of Jamaica (11.34).
Chad Wright of Jamaica and Cleopatra Borel of Trinidad & Tobago continued their dominance in the field. Wright copped the Men's Discus with a throw of 60.79m while Borel was a comfortable winner in the Women's Shot Put with 17.56m.
Around the Web