(Trinidad Express) West Indies one-day captain Dwayne Bravo says the team's performance in the Celkon Mobile Cup Tri Series is a reflection of his leadership but that he will improve as a captain as he continues his career and works on aspects of his leadership.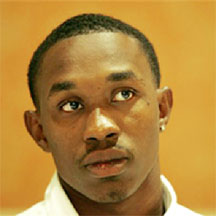 Bravo was speaking to the media at the NLCB media launch for the Trinidad and Tobago Red Steel team of which he will be captain when the Caribbean Premier League T20 tournament bowls off on July 30.
On Tuesday, India beat Sri Lanka by 81 runs on the Duckworth/Lewis method to eliminate the West Indies from today's final against Sri Lanka at the Queen's Park Oval.
"Yeah obviously it ( being captain) is a big responsibility and the performance of the team reflects on the captain," Bravo said yesterday. "No one is shying from the success of the team and I am gonna try my best all the time to make sure that winning factor and that winning attitude is instilled into the entire team…. I myself , whether it is due to injury or slow over rates, have some key things I need to work on as a leader. It is a new form to me, a new role so I have to get accustomed to it and address it as quickly as possible," he said.
Bravo said he believes with every game he will get better and sooner rather than later, the West Indies will start winning more games.
" And I'll get the hang of it with the help of the senior players and things will be well," Bravo said.
Looking back on the Tri Nation Series, Bravo believed the team has to be more consistent especially in the batting department.
"It is always difficult to point, to pick out what went wrong, but together as a team we have to take responsibility of a very disappointing end to a very good start. You know, we are too inconsistent as a team. We show signs of improvement and then we take a step backwards. I think that is something that we definitely need to try and iron out as early as possible in order for us to move up in the rankings of ODI cricket," he said, while congratulating India and Sri Lanka for qualifying for the Tri Nations final.
Bravo is now looking forward to the five ODIs and two T20s against Pakistan and to some improved batting. The squad leaves tomorrow for Guyana.
"We have a couple of days to actually iron out our mistakes…. and regroup as a team again to hopefully not make the same mistakes. Definitely our batting needs to take more responsibility, myself included. We need to take that responsibility and try to carry the team so I am excited and looking forward to another series. We are gonna try and win this one to continue the support of the fans because they are the most important . The fans are the ones that suffer the most, so we have to have that on our shoulders to actually deliver," he said.
Around the Web