Up and coming pugilist, John Moore punched his way to the best boxer award yesterday when the first two-day Demerara Distillers Limited (DDL) under-16 tournament concluded at the Andrew 'Six Head' Lewis Gym.
After clinching victories against Shaquille Wright and Harpy Eagle's Roy Samuels in their highly competitive, punch filled bout, the Forgotten Youth Foundation (FYF) product gained the judges nod ahead of Samuel's gym mate, Travis Hubbard who brought the curtain down by easily defeating Quincy Boyce.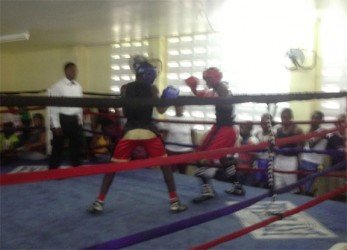 The crowd pleasing Hubbard put on a dazzling display of attack and defense, counter punching his Guyana Defence Force (GDF) Gym opponent to earn a unanimous victory.
Jaime Kellman, Leon Moore, Isaiah Moore, Deshon Allicock, Kurt Allicock, Akeshia Arokium, Shemar Bumbury, Orin Bascomb, Junior Henry and Keon Williams were also in the winners row.
Executives of the Guyana Boxing Association (GBA) stated that the incident free competition was successful and that they look forward to the staging of the other two tournaments.
The second and third DDL sponsored tournaments will box off in October and December in Essequibo and Linden respectively.
Around the Web