A competitive evening of basketball ended in a most unsportsmanlike manner Sunday at the Cliff Anderson Sports Hall when a game between a Guyana U20 All Star side and a USA U20 selection ended in a free-for-all.
The match was part of the All Star-basketball night staged by Youth Basketball Guyana (YBG) and Partners in Christ between local players and players from the United States of America.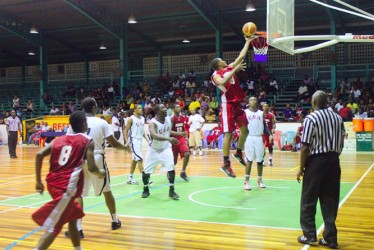 With the game seemingly in the bag for the U20 Guyana All-Star side who was enjoying a huge 30-point lead, Wismar/Christianburg star forward Travin Dryden responded to being pushed by the American side with a right handed fist to the nose of one of the American players.
His action duly triggered a melee between the sides which was quickly brought under control by some teammates, organisers and coaches. Due to the resulting brawl, the game was officially cancelled with 40.9s left in the fourth quarter and the score on 79-49 in favour of the local side.
Plaisance Academy shooting guard Nikkoloi Smith led Guyana with 16 points while Akeem 'The Dream' Kanhai and Jermaine Slater chipped in with 12 points apiece. Kyhiem Chaplin netted 21 points for the visitors.
In a show of respect and sportsmanship players from the two sides shook hands after the squabble.
In the earlier U17 encounter, the American side dominated the Guyanese U17 All-Star team winning 76-49.
Chaplin led the North American side with a game-high 18 points while Joshua Chester and Jovanni Moreno netted 15 and 14 points respectively. No Guyanese player was able to record a double digit score.
Around the Web