If multiple -title holder, Clive 'The Punisher' Atwell could win fights based simply on confidence, he might add many more titles to his resume.
To listen to Atwell, the Caribbean Boxing Federation (CABOFE) featherweight, junior welterweight and local featherweight and lightweight champion speak; you would think he could knock out the world's best fighters.
And why should Atwell nicknamed 'The Punisher' not have confidence?
In the past year, the 25-year old has won four titles and has defeated six opponents, five within the distance.
Atwell (10(5)-0-1) has a perfect record, a tremendous chin, good power and the notion that he cannot be beaten.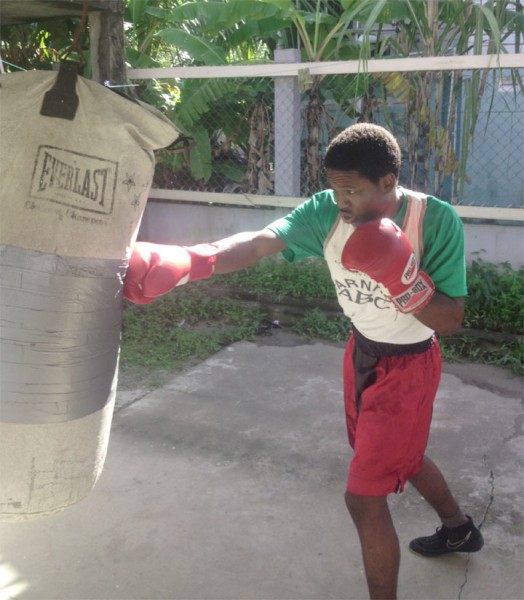 That is the mindset Atwell will take into the ring when he takes on Barbadian slugger, Shurwyne 'The Mauler' Marshall (5 (3)-10(6)-1)in the headline bout of the 29th edition of the Guyana Fight Night Pro Am card tomorrow night at the Cliff Anderson Sports Hall.
"You can expect to see me do what I do and that is triumph by whatever means necessary" the undefeated fighter told Stabroek Sport yesterday.
"Hard work is the name of the game, we have been working on technique and proper positioning because that is a major factor on delivering effective blows, I will try to give the fans their monies worth and try to let the fight go as long as I want it to go".
Atwell simply exudes his own confidence
"I will fight a clean, classical fight to keep the Guyanese public excited about the sport of boxing, the fight is scheduled for eight rounds but I will try to close it off by seven" boasted 'The Punisher'.
Guyana's pound-for-pound king is one of the best finishers in the business and the lightweight bout may not go to the distance.
The co-feature of the card will see former world-rater and European champion, Howard 'Battersea Bomber' Eastman (46(37)-12(2)-0) matching gloves with national light middleweight titlist, Mark 'The People's Choice' Austin (9(1)-5(2)-1) in a 154-pound fight scheduled for eight rounds.
The undercard wills also include Laured Stewart and Richard Williamson.
Stewart, fresh off his dominant debut victory against Anson Green last month, will take on journeyman Eversley Brown in a four-round junior middleweight bout while match makers of the event have pitted Williamson against Green in a lightweight affair also scheduled for four rounds.
Tefon Green and Travis Fraser, two of Guyana's representatives at the South American Youth Games billed for September in Peru will highlight the amateur segment of the card.
Green, of Harpy Eagles Boxing Gym will take on Junior Henry of Forgotten Youth Foundation (FYF) Gym in the 110lbs-114lbs affair while Fraser will headline the amateur card against Guyana Defence Force (GDF) Gym product, Linden Daniels.
Daniels and Fraser of Tiger Eye Gym are both lightweights.
The amateur segment will also see Tyron Lashley (Rose Hall Jammers) opposing Michael April (Tiger Eye Gym) in a junior flyweight bout and Kelroy Evelyn (GDF) against Jason Barker (Republican Gym) in a heavyweight match up.
Tickets for the card cost $1500 (ringside) and $1000 (stands), bell time is 20:00hrs.
Around the Web