Robin Persaud yesterday powered his way to his fifth win of the season outsprinting fellow national rider Warren '40' McKay in the 10th annual Regan Rodrigues' memorial 50-mile road race at West Bank Demerara.
Last year's most successful cyclist won the race in one hour, 57 minutes and 27 seconds.
Persaud, 38, winner of 15 races last year, led McKay and Junior Sportsman-of-the-Year Paul DeNobrega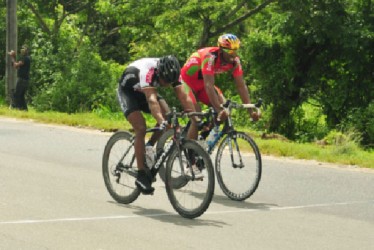 into the top three positions of the grueling event which pedaled off at Wales Police Station, proceeded to Bushy Park and ended at the Demerara Harbour Bridge.
Last year's senior road race champion, Orville Hinds, John Charles and top veteran, Godfrey Pollydore rounded out the top six.
McKay (one), DeNobrega (two), Hinds (three) and Pollydore (two) also carted off sprint prizes.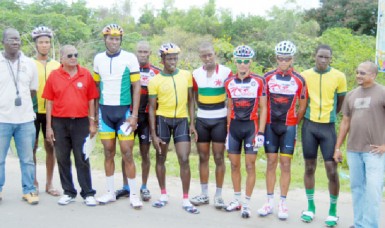 Talim Shaw, Ian Jackson and Shameer Baksh were the top three veterans while the ever improving Hamzah Eastman, Michael Anthony and Shaquille Agard too the top three places in the junior category.
Hazina Barrett, Naomi Singh and Toshwanna Doris were the top three female finishers in that order.
Walter Isaacs was awarded a prize for winning the over-60 category.
In humid conditions, the highly competitive event started off at fever pitch with several unsuccessful mini breaks by most of the 52 starters.
At Vreed-en-Hoop on the downward journey,  however, Persaud, McKay, DeNobrega and Hinds changed gears and worked together to separate themselves from the chasing peloton.
With 200 metres to go and with victory in sight team work was expectedly thrown out the window and a fierce sprint for victory ensued but Persaud, blessed with superior sprinting prowess, powered across the finish line, edging McKay for the top spot.
At the completion of yesterday's race, organiser, national cycling coach Hassan Mohamed thanked the cyclists for making the race a success and also lauded the representatives of Ricks and Sari Agro Industries for sponsoring the decade old event.
Around the Web