President of the Fédération Internationale de l'Automobile (FIA), Jean Todt is expected in Guyana tomorrow for a two-day visit aimed at moving the sport of motor racing forward and to assist in the implementation of effective initiatives to tackle road safety.
The Government of Guyana through the Ministry of Culture, Youth & Sport has accorded official recognition to Todt's visit which is in recognition of Guyana's contribution  to the world of motor sport.
According to a press release from the Guyana Motor Racing and Sports Club (GMR&SC) Todt and his distinguished delegation will be meeting with His Excellency, Donald Ramotar, Minister of Culture, Youth and Sports, Dr. Frank Anthony, Minister of Tourism, Irfaan Ali and Minister of Home Affairs, Clement Rohee.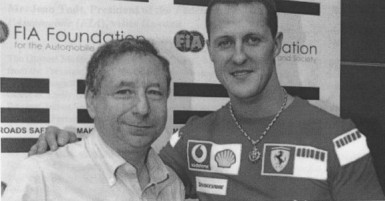 "The Guyana Motor Racing and Sports Club will be privileged with a visit from Todt in recognition of Guyana's significant contribution to the world of motor sport since the nation has long been the centre of motor sport in the eastern Caribbean," the GMR&SC stated in its press release.
The club also stated that it will be holding an official dinner in honor of Todt's visit.
Todt, a French motor sport executive, had a successful career as a rally co-driver and made his reputation in motor sport management, first with Peugeot Talbot Sport, then with Scuderia Ferrari, before being appointed Chief Executive Officer of Ferrari from 2004 to 2008. Since October 23, 2009 he has been President of FIA.
FIA is the governing body for world motor sport and the federation of the world's leading motoring organizations. The FIA, a non-profit association founded in 1904, brings together over than 230 national motoring and sporting organisations from more than 135 countries on five continents. Its member clubs represent millions of motorists and their families.
According to the release, the FIA has a long and distinguished history in promoting road safety.
"For many years the federation has lobbied for improved legislation, infrastructure and vehicle safety technologies on an international scale. On May 11, 2011 the FIA launched its Action for Road Safety in support of the United Nations' Decade of Action for Road Safety. The FIA's initiative aims to lower the alarming figures associated with global road accidents and to spread the safer motoring message, " the GMR&SC release stated.
Around the Web